THE VALUE OF WASTE
Fabric was one of the first products that humans recycled. Since ancient times, we have turned rags into the precious material for producing paper. A recent survey shows that in 2012 in Italy 99,900 tonnes of textile waste was collected: about 1.6 kg per person per year, equal to 12% of the total recyclable amount – clearly below the European average. An opportunity that should not to be missed because, instead of being disposed of, the fabric could be transformed into a recycled product to be used in a variety of industries, such as the automotive, marine and furniture industries or to create insulation panels for the building industry. A relationship that can benefit both those who have a material to dispose of and those who have needs to be met. "We think that the work of Alisea can help develop a greater awareness of the potential of fabric, which is easily transformed and reused. Scrap, waste produce and surplus stock are not synonymous with garbage. They are materials of great quality and value that are no longer used for their original purpose."
DOCUMENT FOLDERS AND iPAD CASES

Rubelli Venezia
Document folder.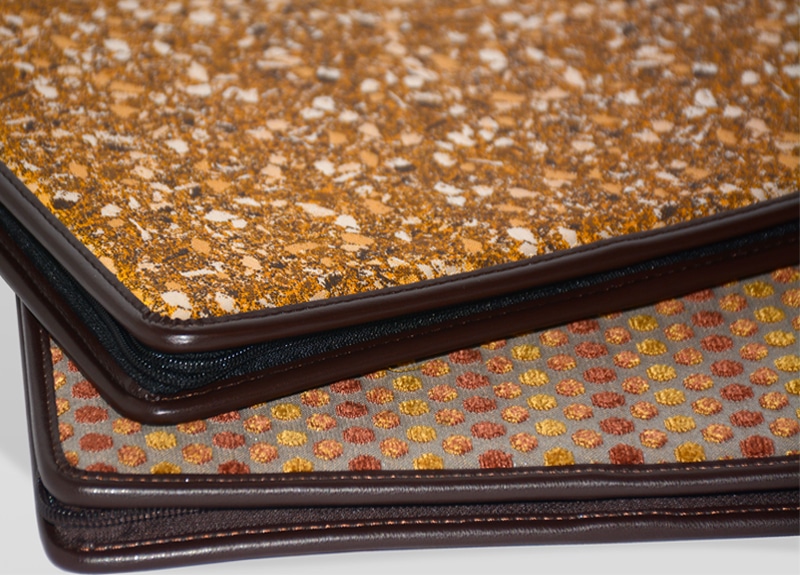 Rubelli Venezia
Document folder.

Rubelli Venezia
Trial runs of the Rubelli collection fabric.

Rubelli Venezia
Limited Edition document folder with zip.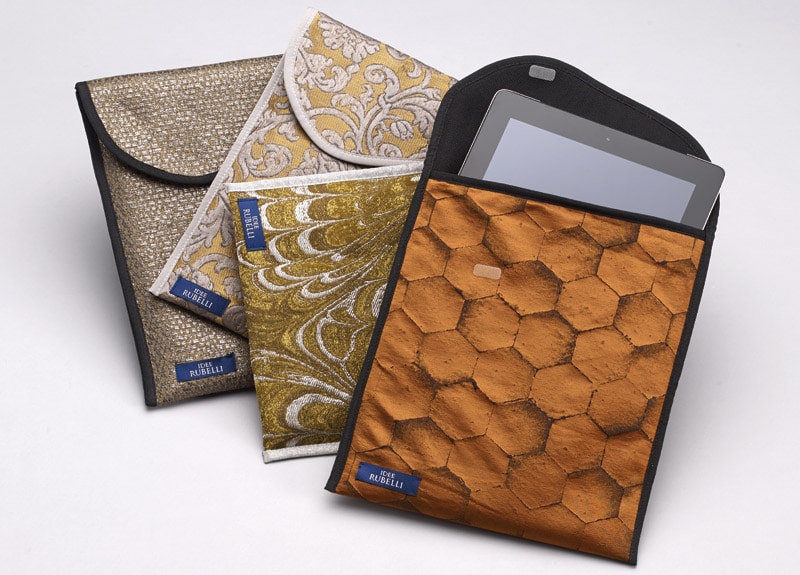 Rubelli Venezia
"I was a trial run of a fabric being developed for the Rubelli collection. Now I am an exclusive iPad case."
By using the fine fabric from the Rubelli collection, we have created iPad and document cases – each one unique. The edges and the inner lining are made from fabric tapes and the internal padding is from the pram production industry. Customized with a certified fabric label that tells the story of the materials.

Removable covers for agendas and notebooks.
The internal lining is made from leftover silk from the production of fashionable coats.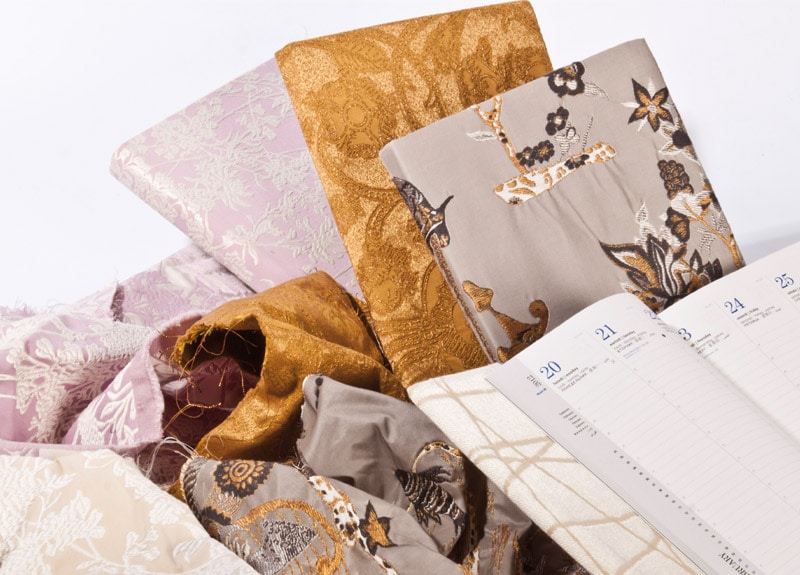 Some of the fabrics used for the Rubelli Ideas collection.

Rubelli Ideas travel bag.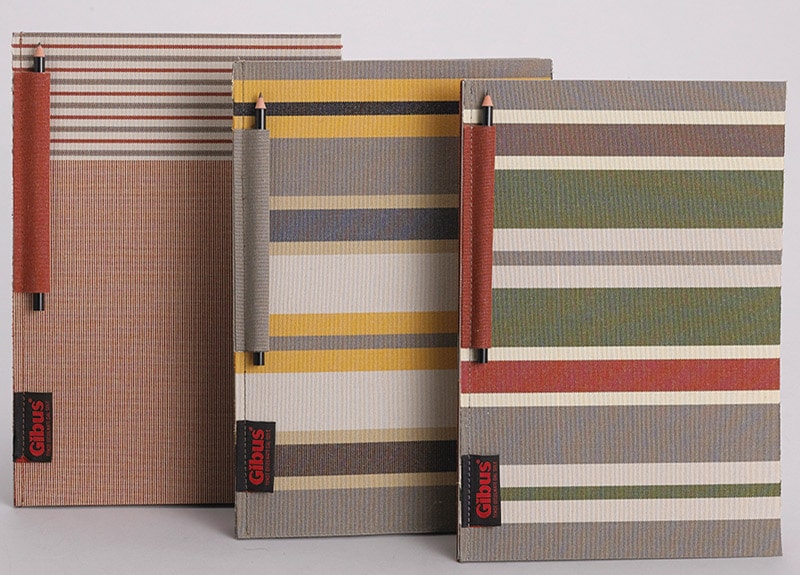 GIBUS, AWNINGS PRINTED BY THE SUN
"We were scraps left over from the manufacture of awnings. Now we are on the cover and pen holder of the Gibus notebooks".
A range of notebooks made by reusing the inevitable waste from the production of outdoor canopies. Each Gibus notebook is unique and finished with cotton stitching along the binding. The pencils are made of recycled plastic. The interior of the notebooks is 100% recycled paper.
The first page and the woven label can be customized.
Size 21×30 cm (8.27×11.81 in).

Parah Tempotest fabrics used for the Gibus notebook collection and first information page.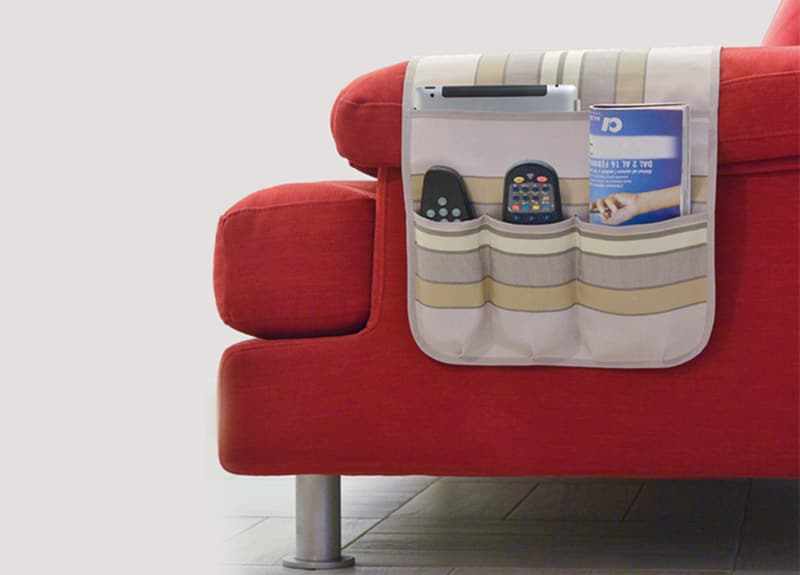 GIBUS, ALISEA AND BUFFETTI, TOGETHER FOR A GREENER FUTURE.
Mr Green comes from an idea that unites three Italian companies: Gibus, a leader in the field of awnings and sunscreens, Buffetti, Italian leader in distribution, and Alisea's products and solutions for the office.
The idea is simple: what one company does not need can be reused and redesigned by another, thus avoiding waste. The project has enabled the companies involved to discover innovative and unique possibilities for reusing raw material: colorful fabrics with unique technical features designed for awnings were the focus of a range of new products designed for the office and for everyday life. Folders, clipboards, covers for agendas, coin trays, containers and shopping bags.
A creative and sustainable approach means that Gibus's high-quality fabrics, discarded during the normal awning production process, can be transformed into new forms that respect the environment and provide in a new way of looking at everyday life.

Mr Green: Toy sack
Size: cm 30x47x17 (11.81×18.5×6.69 in).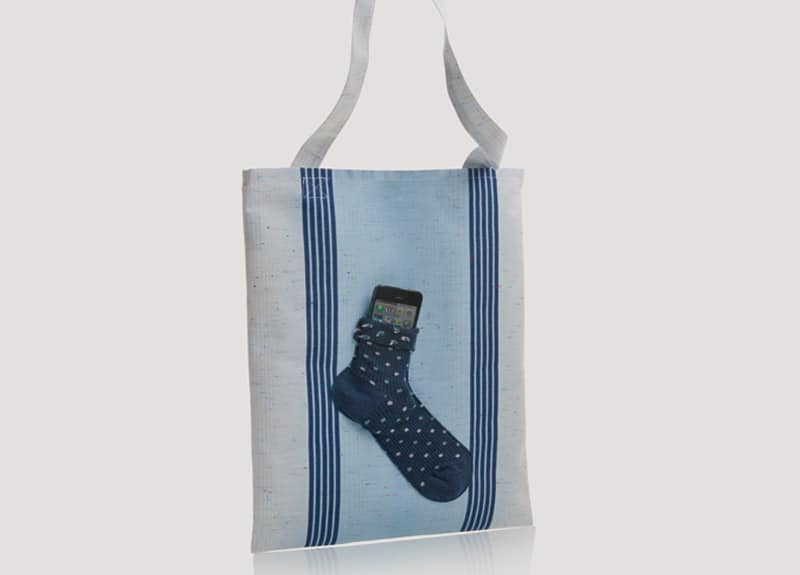 Mr Green: Shopping bag, the outer pocket is a sock
Size: cm 36×45 (14.17×17.72 in).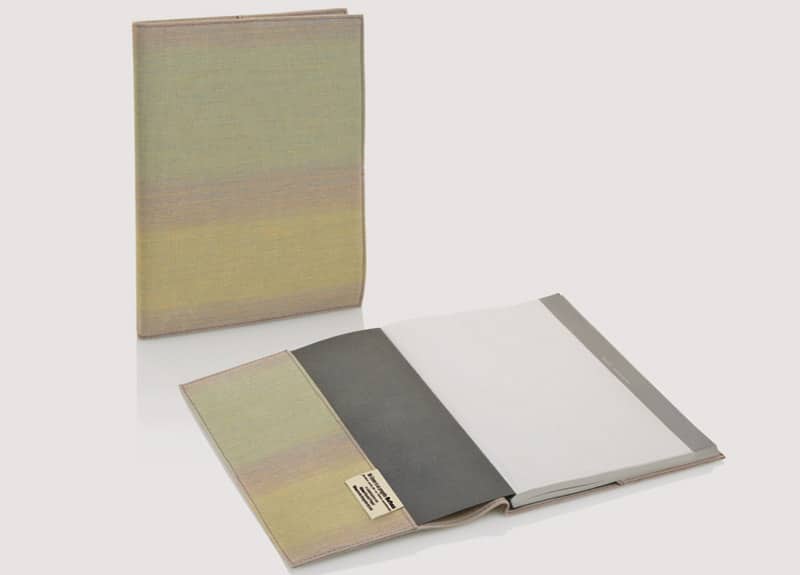 Weekly planner with block-notes.
Size: cm 17×24

A4 clipboard with flip cover
Notepad and pen included.
Shaped cover.
Size: cm 23×32.20 (9.06×12.68 in).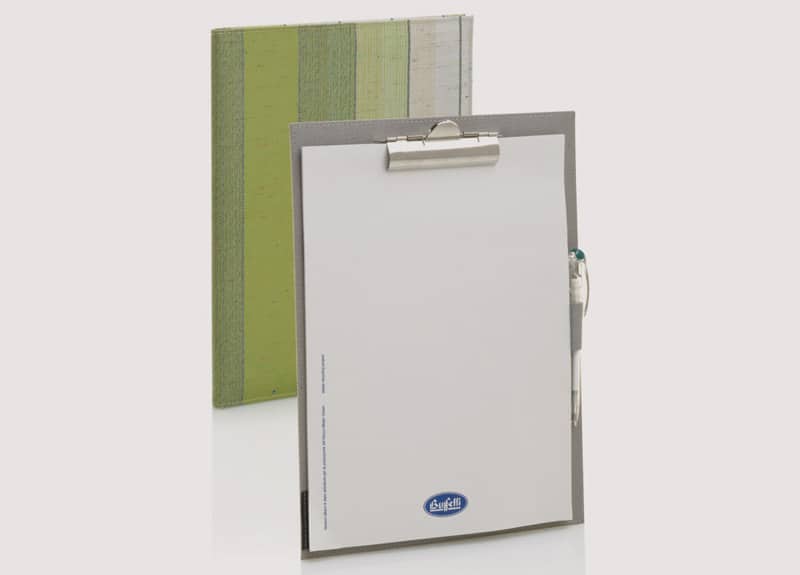 Clipboard
Size: cm 23×32.2 (9.06×12.68 in).
Notepad and pen included.

A4 notepad folder with zip
Notepad and pen included.
Shaped cover.
Size: cm 23×32.20 (9.06×12.68 in).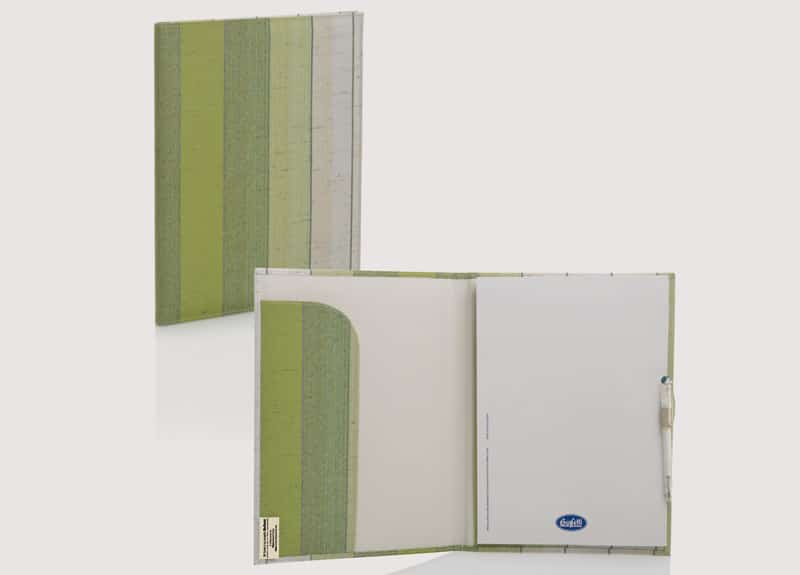 Simple A4 notepad folder
Notepad and pen included.
Size: cm 23.5×32 (9.25×12.6 in).

Pocket weekly organizer
Internal size: cm 9×15 (3.54×5.91 in).

"I was an Emergency t-shirt that was no longer for sale. I am now your bag."
By re-using the association's t-shirts, we created limited edition unique travel bags.
Available exclusively from Emergency stores, they have cotton stitching, braided cotton handles and internal lining made from the waste products of the pram manufacturing industry.
Size 38x16x27 cm (14.96×6.3×10.63 in).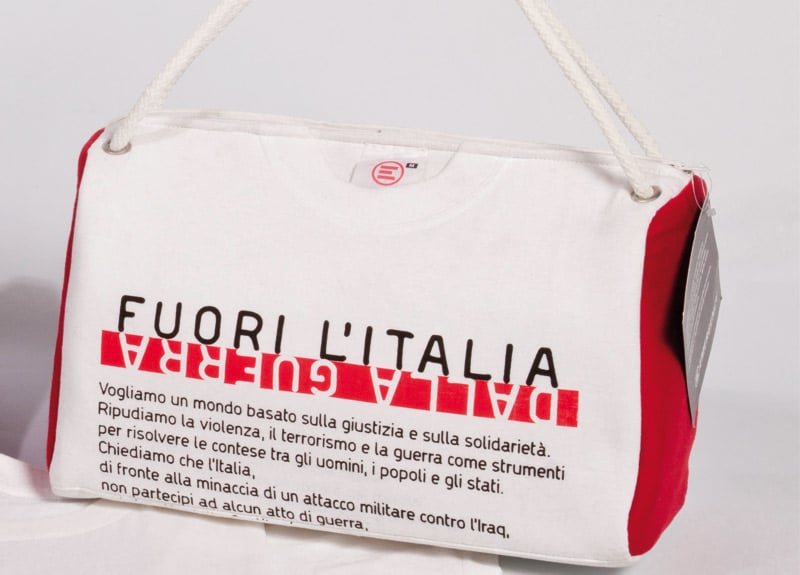 The entire Emergency t-shirt has been used to create the travel bag.

Arclinea
Made of colourful cotton and customized with silk screen printing in two colours.

GLS
Made of colourful cotton and customized with embroidery in two coluors.

Modì
Made of natural cotton.
Customized with relief silk screen printing.
FABRIC