GLASS MATERIAL RESEARCH
All the items of the Glass Material Research range are handmade in Italy by skilled craftsmen and each piece is unique. Waste materials and scraps left over from industrial production are inserted in lampworked glass and become design objects, which convey the company's identity and design. Glass was the first material that was used to create the Material Research range.

Exhibition Balls
Christmas balls made from lampworked glass. The interior houses the client's products.

ReMedia Consortium Rolling glass
"Glass has been used in our homes and in our life from more than five thousand years. ReMedia is a young company that has been using glass as the main material for Glass Plus: this project reintroduces cleaned and shredded cathode ray tube glass of dated TV sets into our homes as furnishing ceramics. This playful sound-making item unites our passion for the environment, our aim to reuse and recycle materials and our best wishes for a happy new year." ReMedia is a consortium that manages and disposes of WEEE, waste electrical and electronic equipment.

Controlcine Flute and Viro
Flute glasses. The stem includes film frames of the Venice Film Festival.
Flute glass. The stem includes a small key provided by the company, leader in the production of security systems.

Controlcine
Lampworked glass pendants. The interior contains a frame.
Made for the Venice Film Festival.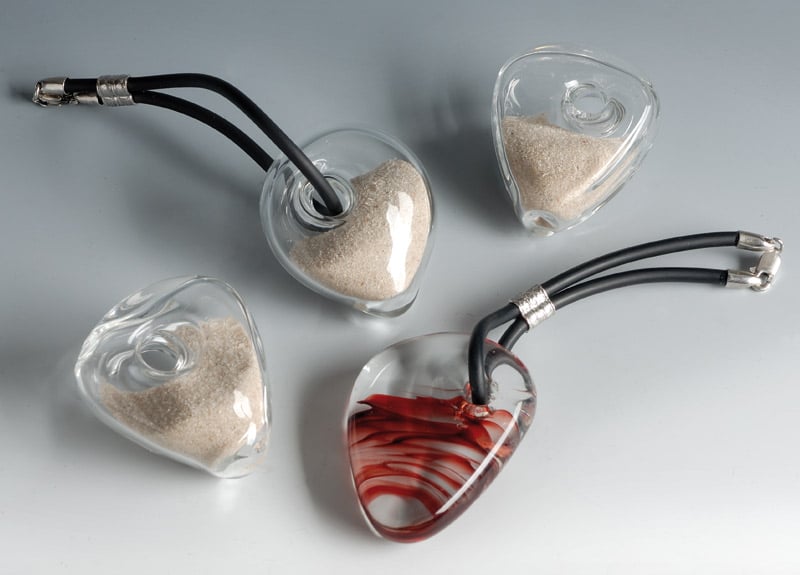 Waldner Tecnologie Medicali
Key ring made from lampworked glass, it reproduces the client's logo and brand colors.
The interior contains sand.
GLASS MATERIAL RESEARCH