RE-WRITE

Pens made with recycled materials and pencils made with recycled or FSC certified materials.
All the Objects of the collection indicate the material with which they are made.
"Rewrite pens and pencils always have a story to tell, that of the recovered or recycled materials with which they are made. Alisea's commitment is to explain, through its Objects, the genesis of the project that inspired their production and always provide the traceability of the supply chain with which it was possible to transform waste into value".
"I was a 500ml plastic bottle … now I'm the pen you write with"
From the correct recovery and recycling of plastic bottles, a pen "we had to invent it" is born. Aqua recycled PET comes from circular economy (post-production) and it is 100% recyclable. The entire production process to obtain recycled PET is a worldwide patent.
AQUA is durable: it writes for 2500 km. It has a black or blue smudge-proof refill. Aqua has a registered design and shows recycled and made in Italy marks. All the pens have the writing "I was a 500ml bottle".
"Aqua is the result of an entirely Italian ethical chain, where the partners – from carriers and material processors, to producers and distributors – share the same philosophy and the same mission: attention to environment and people for a truly sustainable future."

AQUA is available in 9 transparent colours: white, yellow, orange, fuchsia, red, purple, blue, green and black. Customizable up to 360° on the entire surface.

AQUA for Pietro Fiorentini
Example of customization.

AQUA has always its black FSC packaging of gr. 400 (Cartiere Favini). It can be fully customized with corporate communication.

AQUA for DHL
Example of customization on the body and on the clip in pad printing one colour black.

The recycled PET with which AQUA is made comes from circular economy process chain and is 100% recyclable (post-consumer).
Ergopen is born from the correct recovery and reuse of post – production plastic scraps. A pen that stands out for its innovative design and ergonomic handle. The mechanism is snap-on, the anti-smudge refill comes from Italian production, the ink – available in blue or black colours – has a particular fluidity. Ergopen is durable, it writes up to 2km. The tip is in chromed brass, while the sphere is made of tungsten carbide, a special alloy, harder than steel, which allows it to be perfectly spherica, making the writing stroke perfect and more durable over time. Made in Italy, only.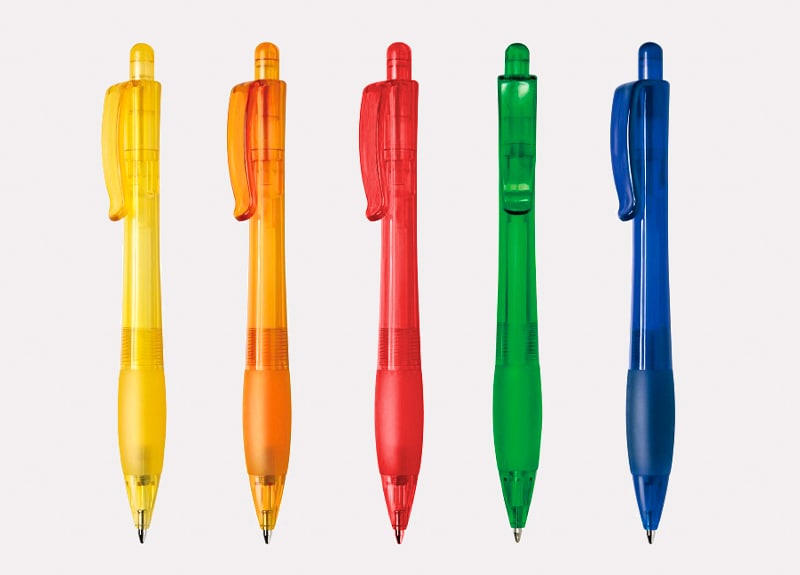 Ergopen: yellow, orange, red, green and blue colours. Anti-smudge refill, made in Italy. Black or blue ink. Writes up to 2 km.

KMPG
For all its training courses, KPMG choose Ergopen printed on the body and on the clip.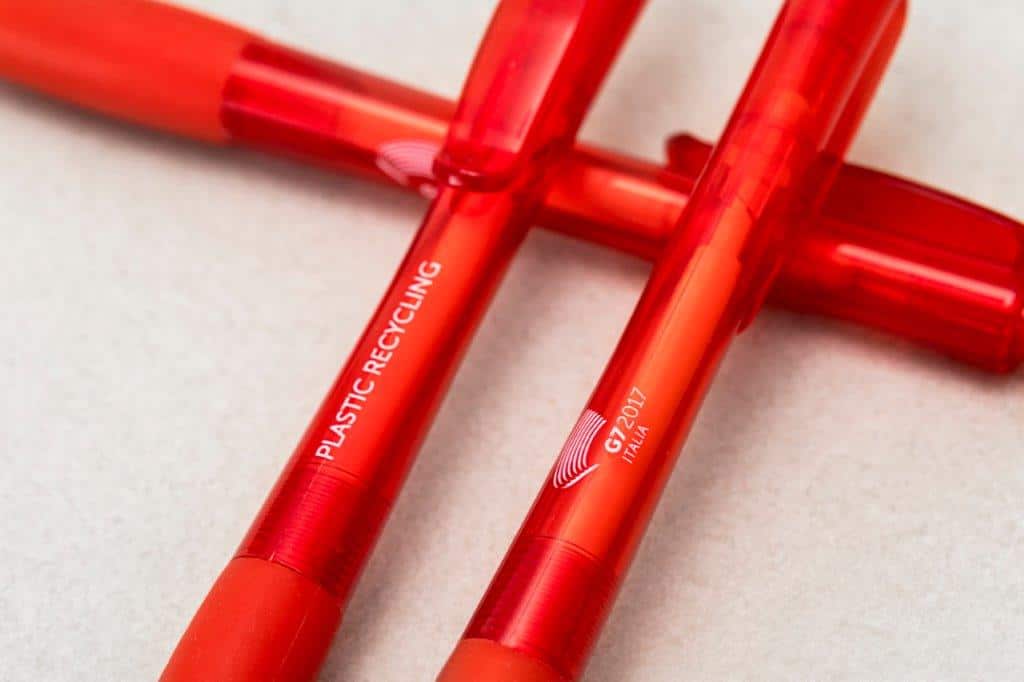 G7 Taormina
Ergopen was included in the Welcome Kit as a gift to all the international delegations that took part to the G7 meeting in Taormina.
CHIESI FARMACEUTICI | SPECIAL PROJECT
"I was a Clenil vial of Chiesi Farmaceutici… now I'm the pen you write with". Alisea's mission is to recover customer's waste materials to transform them into design objects that communicate identity and history. The "Made with Clenil" pens are born in Italy from the correct recovery and recycling of Clenil polyethylene vials production.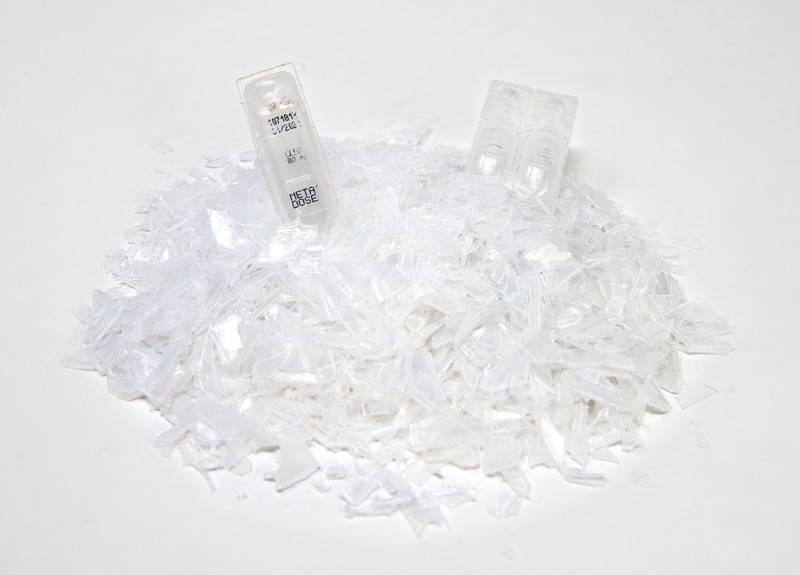 Thanks to the synergy with Chiesi Farmaceutici, Alisea recovered, for the first time, polyethylene from the Clenil vials to create an Object that "we had to inventi t"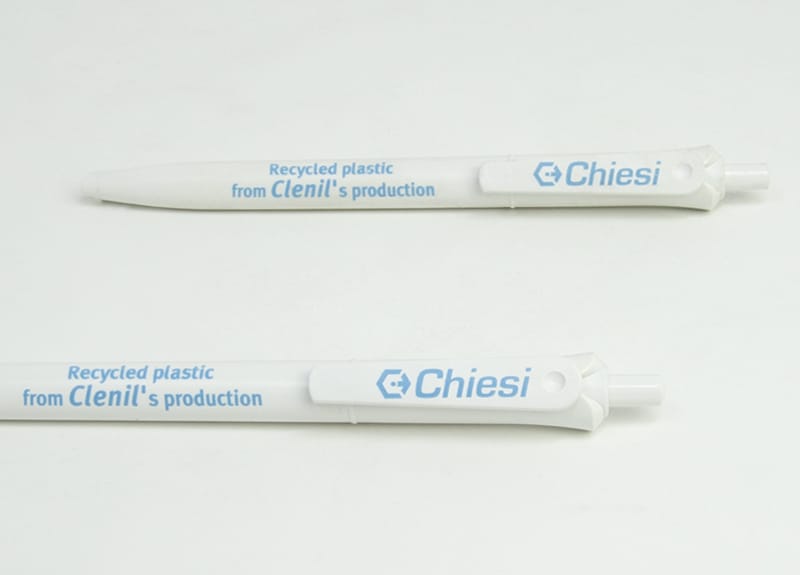 Screen printing personalization on the body and on the clip.
POST-CONSUMER RECYCLED PLASTIC | PENCIL
Our recycled plastic pencils are the result of the correct recycling of everyday plastic objects. Each pencil indicates the amount of recycled plastic used to create them.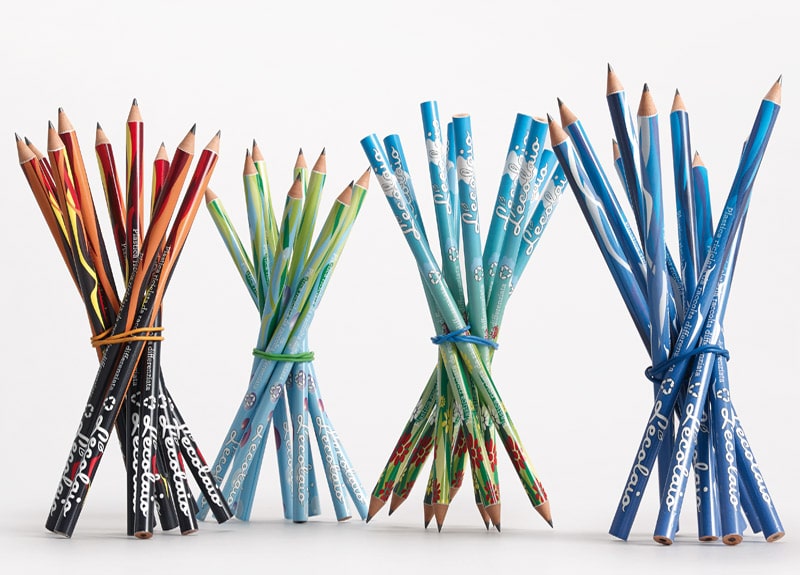 For Ecolaio we created a series of 4 360° customized pencils that represent the 4 seasons.

The pencil can have a packaging personalized upon customer's request. It is possible to add a ruler on the graphics that transforms the pack into a useful desk object.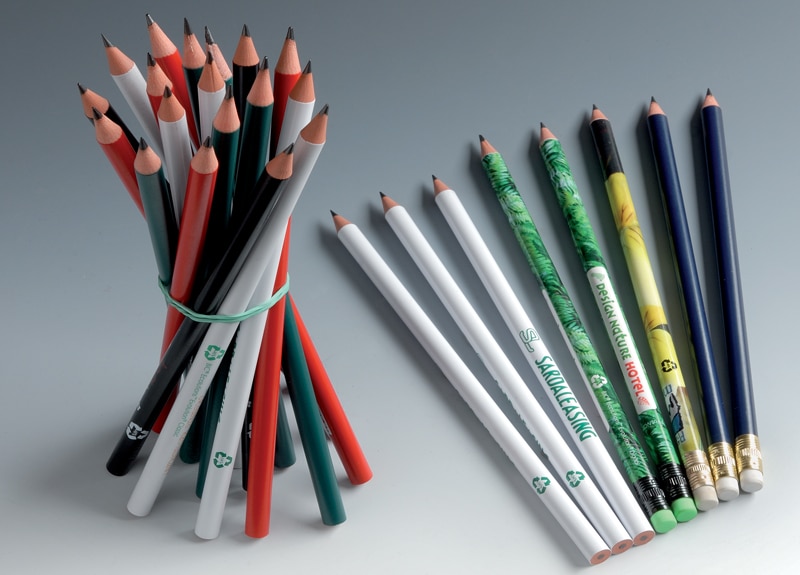 Possibility to add a practical eraser on the pencil.
Double is a double-pointed highlighter born as an alternative to classic plastic highlighters. It is different because it doesn't dry when into contact with air, reducing the risk of waste. Its wooden body is FSC and PEFC certified to guarantee that it comes from worldwide forests responsibly managed. Double won BAPP Innovation award in France. The lead colours can be chosen among graphite or red, blue, orange, yellow, green and light blue pigments. Customisation: pad printing or hot printing on the entire surface. The body is made of wood and can be customized with company Pantone colour.

BNP Paribas
Double always has a FSC cardboard packaging (Favini Papermill). It is possibile to customize the pack with institutional Pantone colors.

Lead colors available: orange, yellow, green, pink and blue. It is possibile also to customize Double body: Agint for example chose to color it with its own pantone color.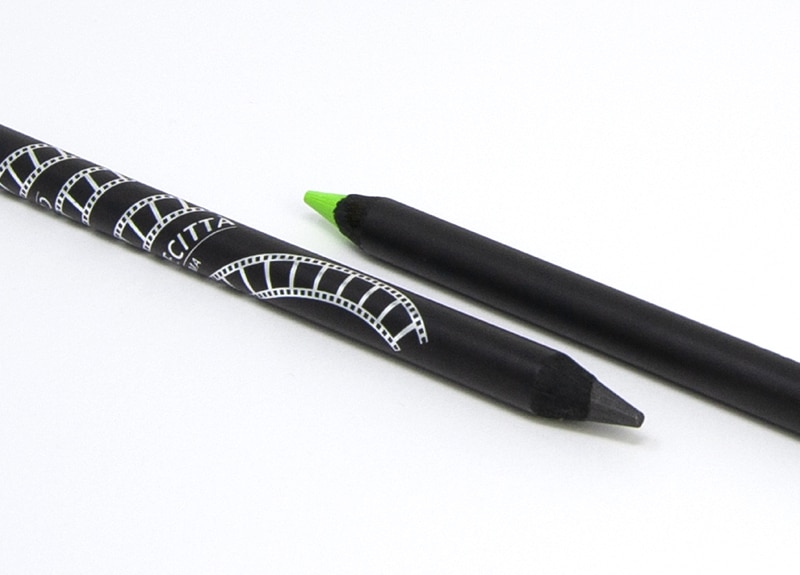 Double can be 360 ° customized and it is also available in a version with a highlighter lead and a graphite lead.

Allianz
Double packaging is designed as a blackboard where you can write your message, your logo and the company mission.
CUBAN
Cuban has a recovered maple wood body made from skillfull craftsmen. To increase the smoothness of the handle, the wooden body has been plunged in warm vegetable oil and then dried by hand with a simple cloth.
The tip allows Cuban to write on paper without the use of ink, thanks to a patented alloy of metals that "scratches" common paper and oxidizes it, leaving a light and romantic mark like graphite, but precise like ink. Design by Sergio Mori
Customizable with high definition laser engraving. Dimensions: Length 10 cm; Diameter 2 cm.

Cuban is available in 3 different colours, wood, titanium and multilayer. Customizable by laser engraving.

Cuban's packaging is made from an aluminum tube, in line with its evocative shape of Cuban cigar..
PININFARINA
The ETHERGRAF® tip takes inspiration from the special technique of the silver tip, used by Leonardo da Vinci. Created thanks to the cooperation with leading Italian researchers, it takes advantage of the oxidation caused by the friction between paper and metal tip, bringing it to a new level. Conceived, realized and hand-forged in Italy, ETHERGRAF® is the hallmark of our styluses.
Designed by Pininfarina.

The ETHERGRAF® tip microscopically "scratches" paper, oxidizing it and thus leaving a light but precise mark.

Cambiano Pininfarina
Tip in Ethergraf® alloy.
• Length 16,5 cm
• Weight 39 gr
• Aluminium body
• Copper-plated and galvanically treated in versions Aluminium, Matte Black and Lucid Black
• Inserts in solid walnut wood
• Packaging size 19,5cm x 5cm x 2,7cm
• Solid walnut wood box with display function
• Designed by Pininfarina
RECYCLED ALUMINUM | PRIMA
Prima is a revolutionary writing tool, inspired by an artistic, ancient and fascinating writing technique.
It is as precise as a pencil but with a sleek and elegant design.
The tip allows Prima to write on paper without the use of ink, thanks to a patented alloy of metals that "scratches" common paper and oxidizes it, leaving a light and romantic mark like graphite, but precise like ink. Design by Sergio Mori
Size: Length: 18 cm (7,08 in). Diameter: 1 cm (0,39 in).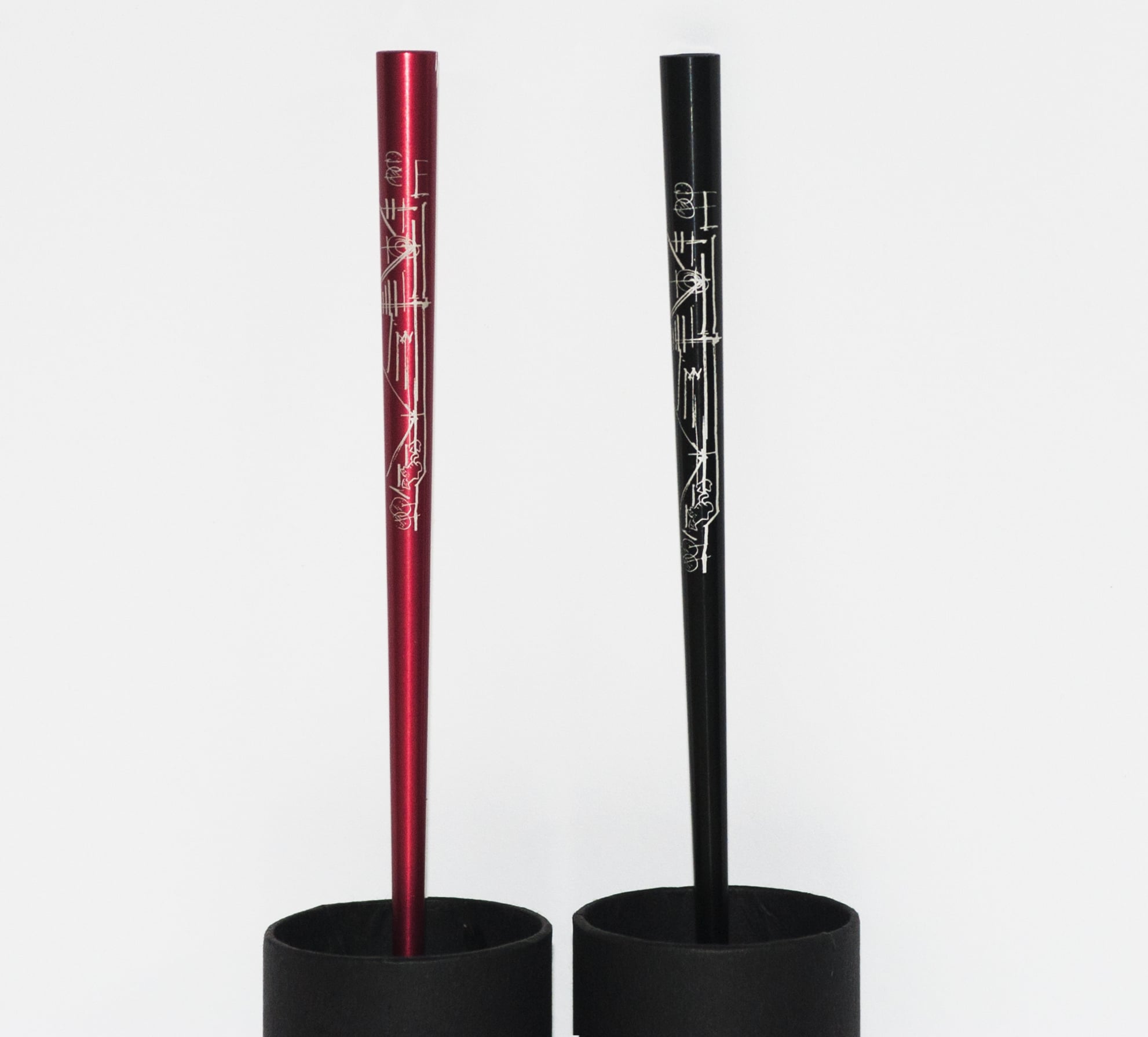 Muse
Muse chose to laser engrave the unmistakable profile of the architecture created by Renzo Piano for the Science Museum of Trento.

Prima is available in titanium, silver, gold, copper, rust, bronze, red, black and blue colours.

Hotel Excelsior Venice Lido Resort
Prima was customized with customer's logo using the laser engraving technique.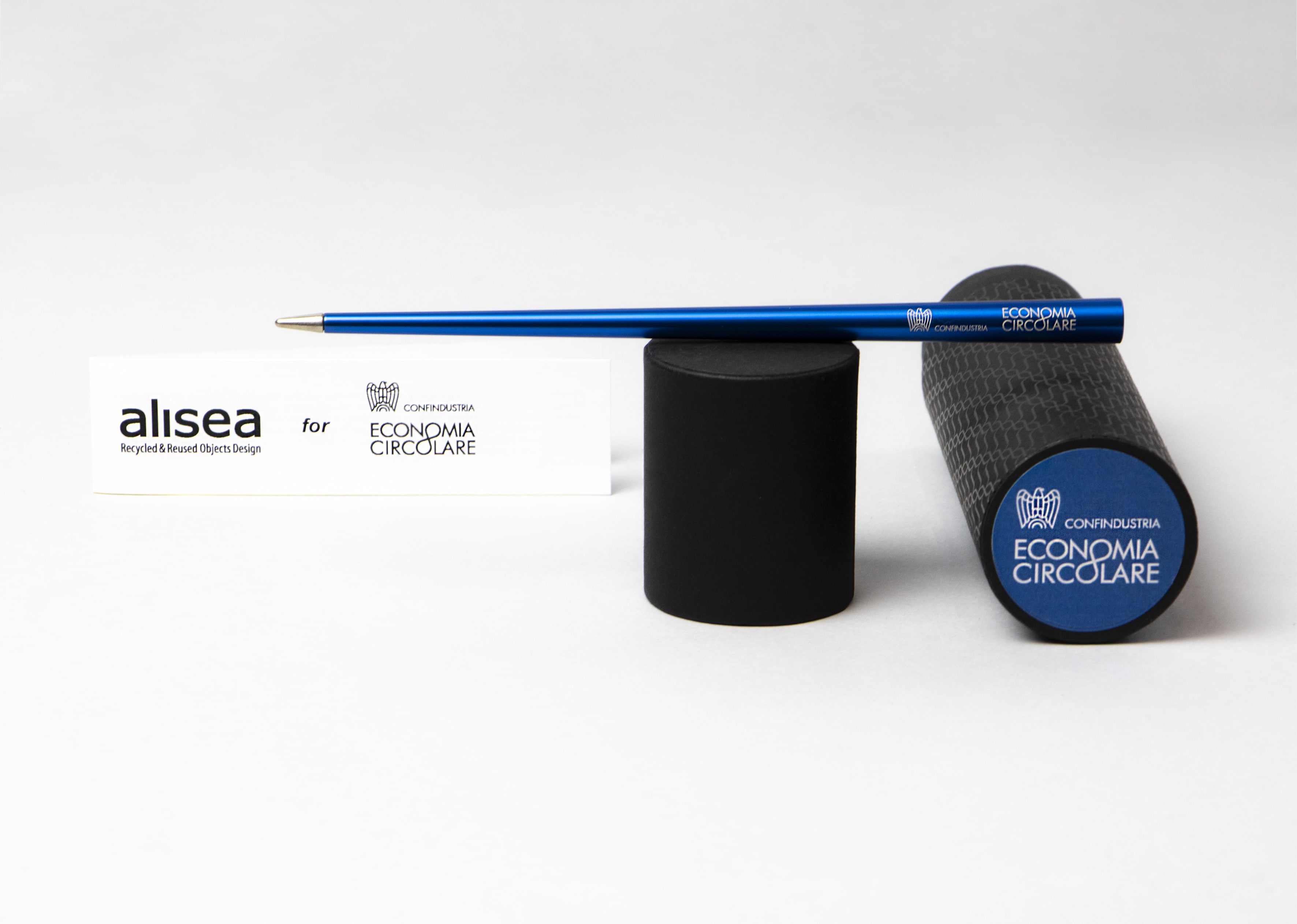 Confindustria
Prima always has a cylindrical packaging, designed to also become a convenient desk pen- holder. Inside the pack there is the Prima certificate which can be customized with the customer's logo. The label on the lid of the packaging can be added and customized upon request.
PENS AND PENCILS