RECYCLED R-PET PLASTIC
Every year millions of plastic bottles for beverages are produced. The material with which they are made is called PET. It is lightweight, durable and 100% recyclable. After the garbage is divided, washed and ground to flakes and granules, which are called R-PET, many items can be produced such as covers for notebooks, rulers, school and office accessories, calendars, packaging, advertising signs and conference lanyards.
Alisea's R-PET sheet has been awarded the ReMade in Italy certification, the first trademark for products and materials that are recycled and reused in Italy; a trademark created to promote Italian sustainable industries.
"We started to use the sheets when, in 2010, a customer asked us to create a personalized notebook with a cover made from recycled bottles.
We discovered that, at the time, there was no one in Italy that produced R-PET sheets. By using our own factory and working with recyclers and granule producers, we were able to produce a clear rigid sheet of a suitable thickness. With the satisfaction of having not only created a beautiful product, but also contributed, in our own small way, to promoting the use of a material that is now used in the packaging of the retail and the vending industries."
From the correct recovery and recycling of 35 plastic bottles, PET_IT comes to life!
More than 100 millions of plastic bottles are used and thrown away every day. Alisea contributes to their recovery and recycling with PET_IT, the backpack made of post-consumer recycled PET.
PET_IT is customizable with customer's logo.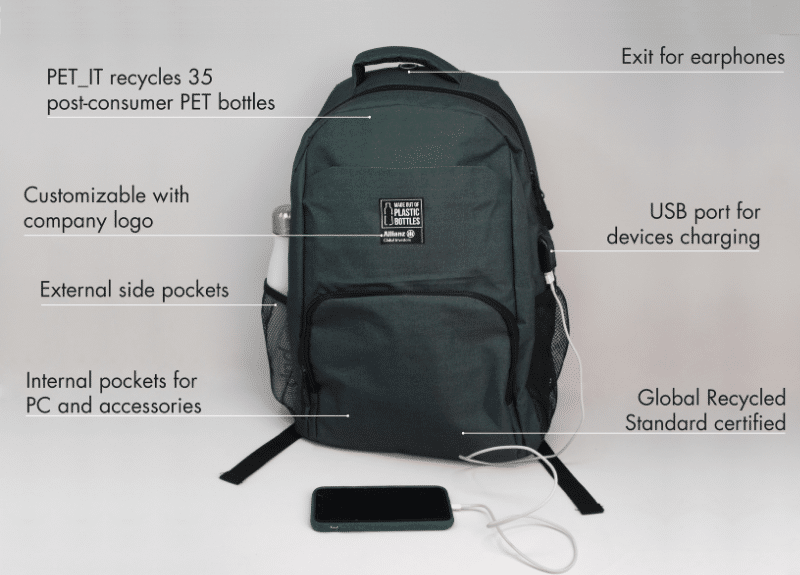 PET_IT is Global Recycled Standard certified. It has internal and external pockets, two pouches for bottles, an exit for earphones and a USB port for devices charging.

Detail of the USB port for devices charging.

Allianz Global Investors, always commited to social and environmental issues, was the first to choose PET_IT, recycling a total of 3500 plastic bottles! PET_IT has been customized with the customer's logo and with a special label that expresses the company's commitment to sustainability.
"I was a plastic bottle… now I am your Mask Holder"
In the race to get surgical masks, no one seems to have tought where to put it when we do not wear it. We tought about it! We created Mask Holder, the surgical mask case, made in PET from the recovery and recycling of post-consumption plastic bottles.
The correct storage of our masks helps us to significantly reduce the possibility of infection. Not throwing the mask away in the environment means preventing the mask to become a problem for our planet and the people who inhabit it.
The recycled PET sheet is certified Remade in Italy. Mask Holder is 100% Made in Italy. Dimensions: 9 cm x 6 cm.

Mask Holder is customizable with your logo or corporate communication using silk-screen printing.
It is supplied inside a reusable transparent envelope. It has a FSC paper packaging with the instructions for the use.

Instructions for a correct use of Mask Holder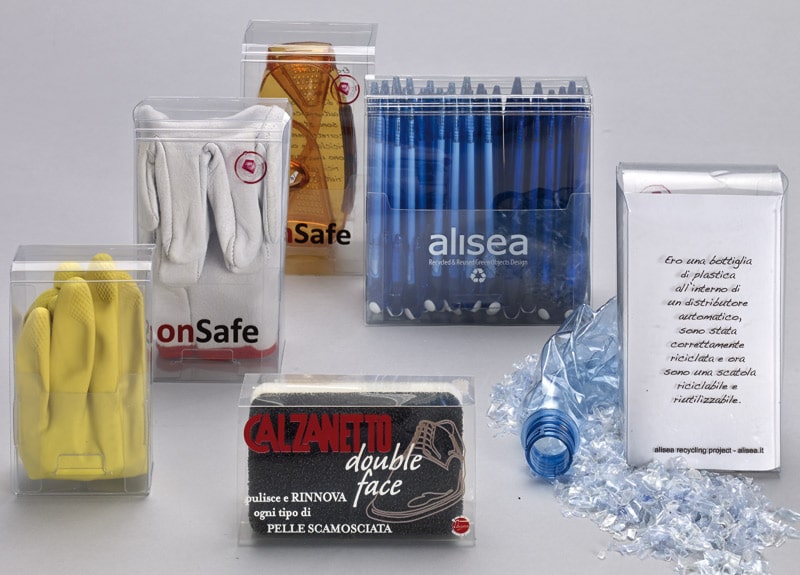 Self-closing recycled PET boxes, made and designed according to the specific needs of the customer.
Customizable with silk screen, offset or digital printing.
The packaging can be provided flat-packed to minimize transport and storage costs.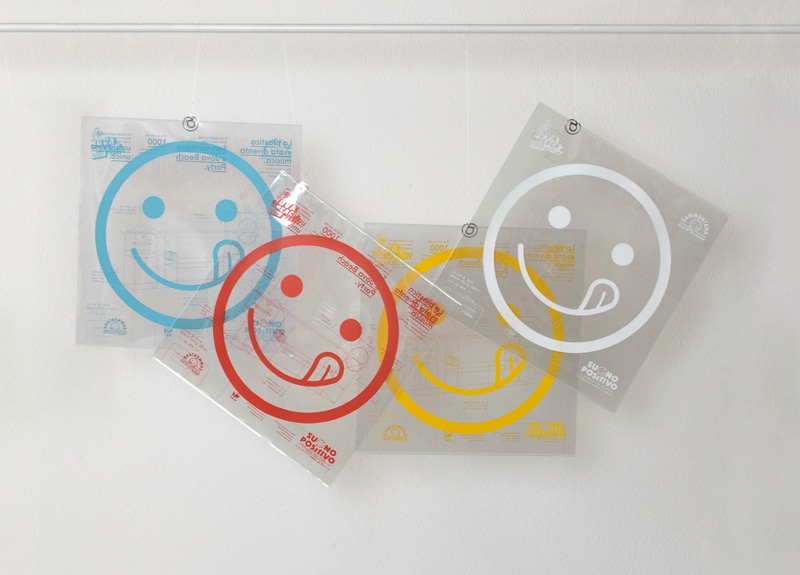 Jova Beach Party
"I was a PET bottle, correctly recovered and recycled I became the case of the Jova Beach Party 33 rpm record"

Calzanetto Deisa Ebano recycled PET packaging.

The first eco-friendly packaging made from a sheet of transparent R-PET, a material made from the plastic bottles used in vending machines. The packaging has received the Packaging for Vending stamp, certifying the suitability of the product for vending machines.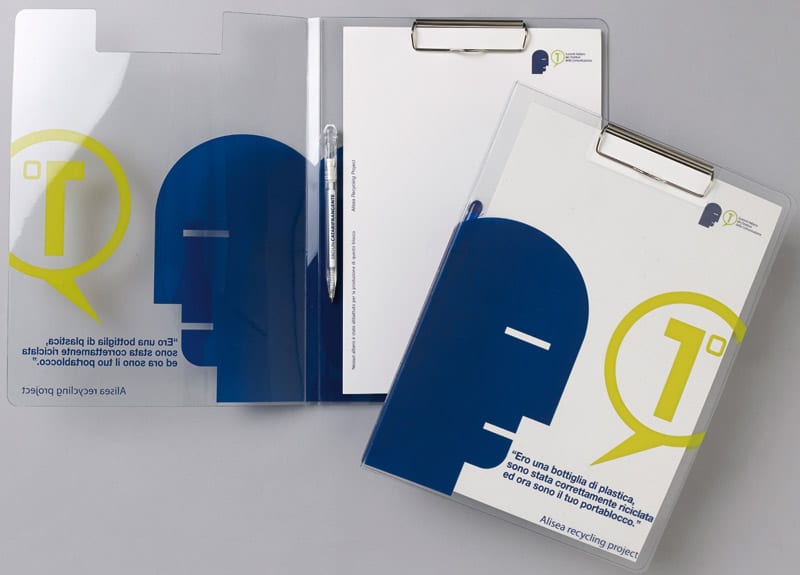 A4 clipboard with aluminum clip, complete with recycled-paper notepad and pen holder. Optional pen made from recycled car headlights.
Recycled PET with a clear finish.
Customization: silk screen, offset or digital printing.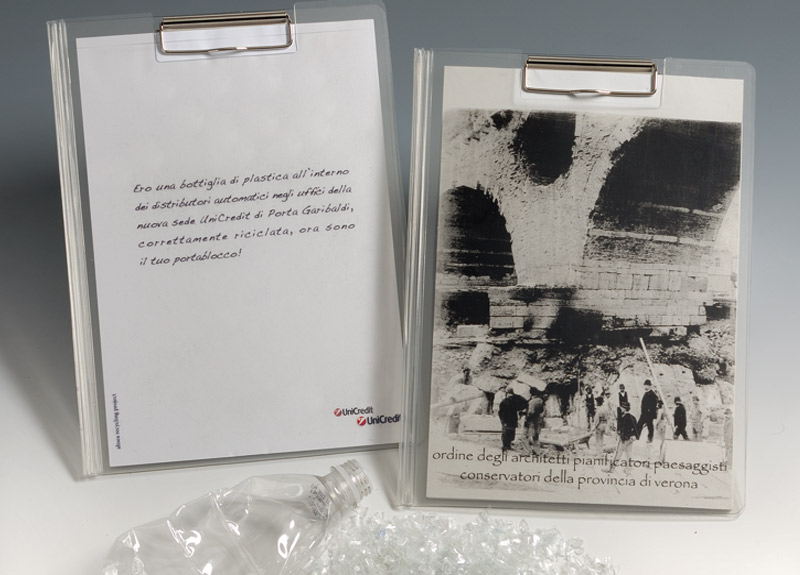 Ordine degli Architetti di Verona (Association of Architects of Verona).
Clipboard with a reproduction of historical image.


Acegas Aps
Recycled plastic notepad folder
with recycled paper and pen holder.
Surface silk screen printing.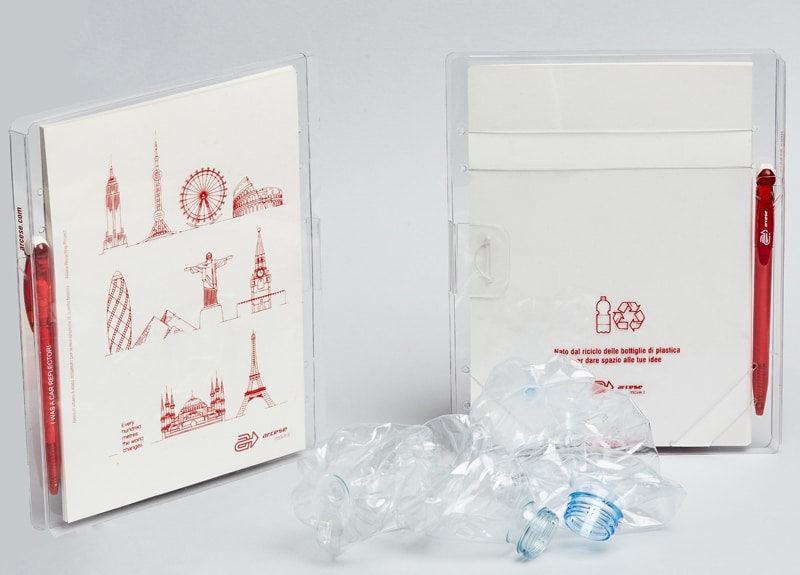 Arcese
R-PET notepad holder and briefcase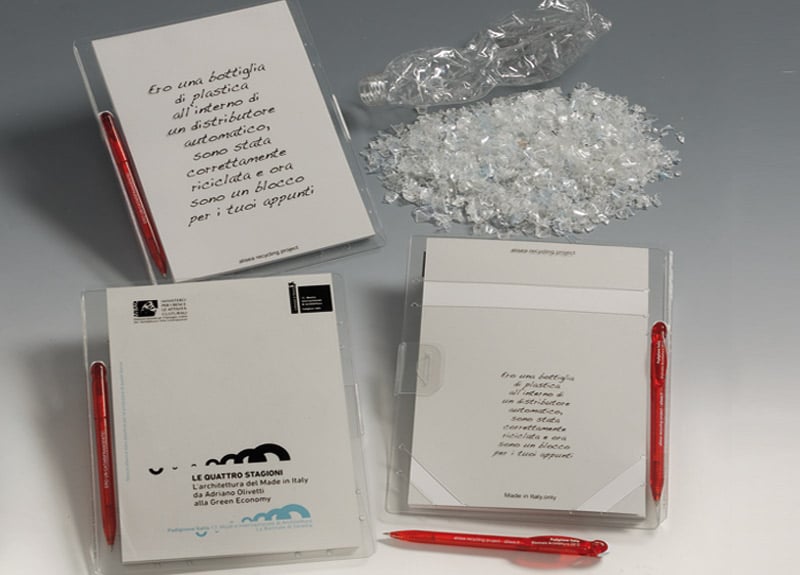 Biennale Architettura di Venezia (Architecture Exhibition of la Biennale di Venezia)
Recycled plastic notepad folder with recycled paper and Headlight pen made from recycled red car headlights.
NOTEBOOKS WITH SPIRAL BINDING


Recycled transparent PET cover made from recycled plastic bottles.
Notebook sizes A4, A5, A6
Customized 100% recycled paper inside with offset printing on all pages.
Customized cover: full-page silk screen printing in one color.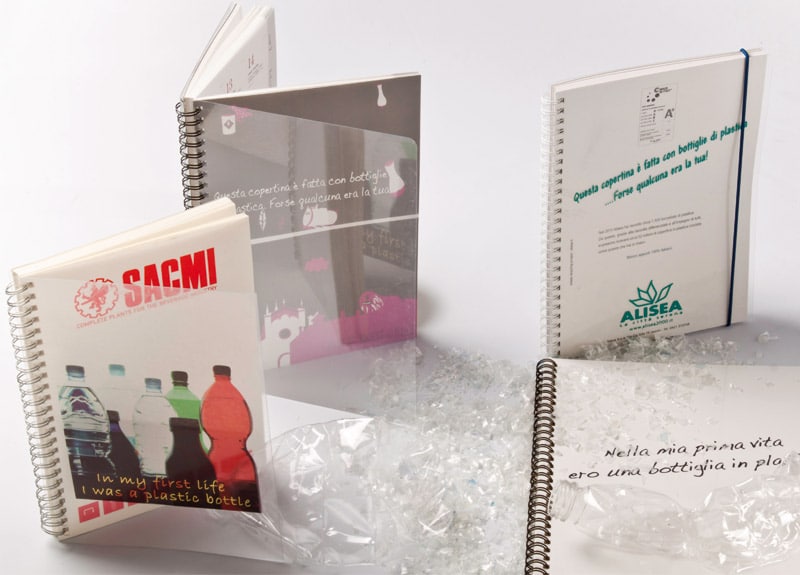 The covers of the notebooks can be personalized as can each sheet of paper inside. Possibility of choosing the color of the spiral binding and elastic fastener.


In late 2013, the Sanpellegrino Group, along with the Nestlé Vera and Levissima brands, launched the second edition of R-Generation, a project to raise awareness about recycling plastics, aimed at primary school pupils and their families. The event, sponsored by the local municipalities and organized in partnership with the municipal waste management companies in Milan, Rome and Naples, involved over 100 schools and 50,000 pupils. The project involved the distribution of kits to the teachers of classes III, IV and V (3rd, 4th and 5th grade) with useful lessons to illustrate plastic recycling to the children.
All the children were given a ruler made by Alisea from recycled PET, in partnership with ToDo, an agency in Milan specialized in local and unconventional marketing (1\2 a plastic water bottle reused for each ruler).
Customized 4-color printing with the logos of the brands of the group.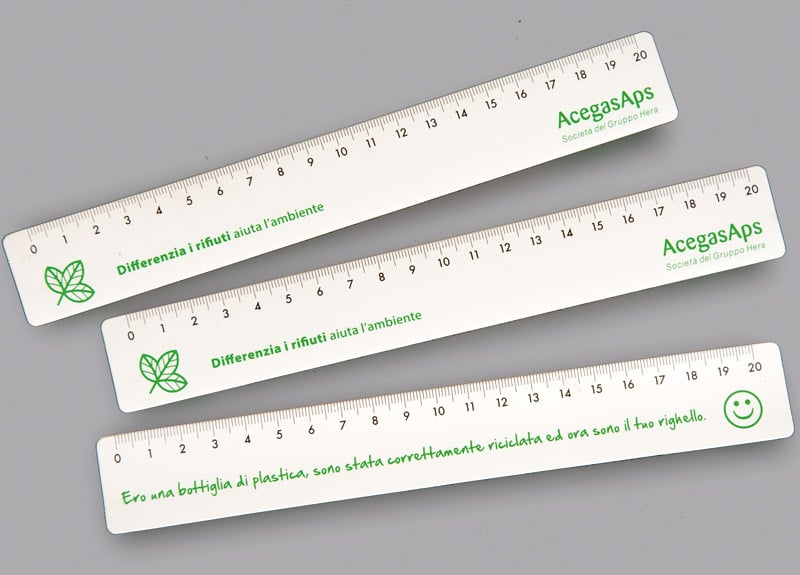 Acegas Aps recycled PET ruler with customized silk screen printing in one color.


Made from Italian recycled and certified (AZOFree) PET fabric, they are customized using water-based inks. The safety hooks and carabiners are made from recycled material and are nickel-free. Each strap has a label that certifies the quality of the recycled PET.

Examples of silk screen printing and clip.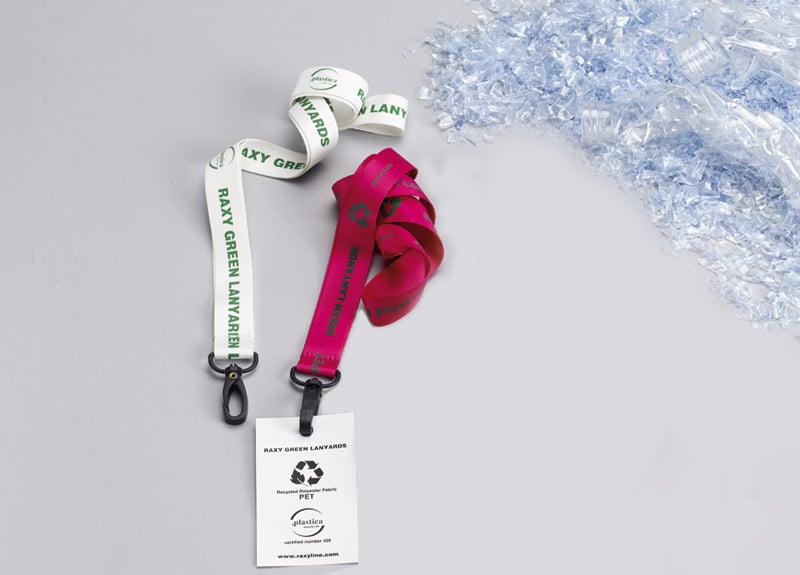 Second life plastic certification.
THE ``QUESTIONE DI GESTI`` PROJECT (``A MATTER OF DEEDS``)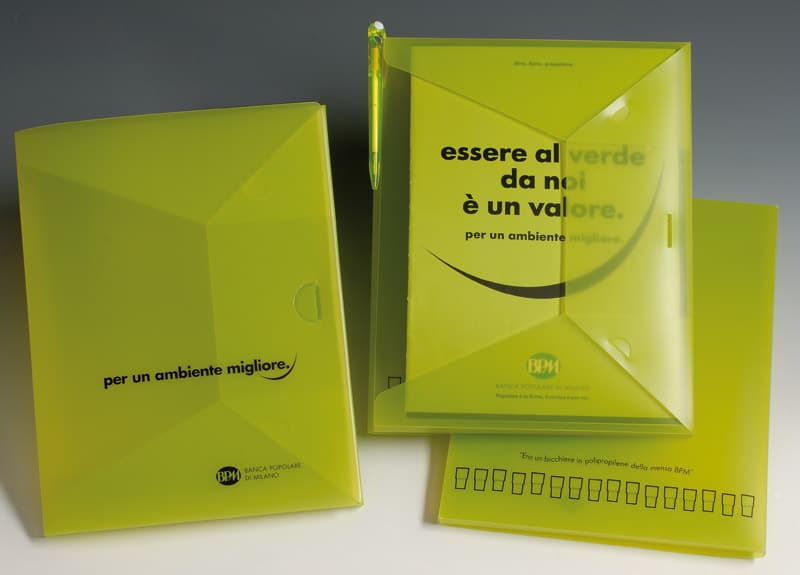 Using recycled cups from two canteens of the Banca Popolare di Milano, plastic granules are produced to create other objects.
In fact, with the "QUESTIONE DI GESTI" project, the 485,000 plastic cups used each year will be given a new life and transformed into briefcases, notebooks, money boxes or waste paper baskets.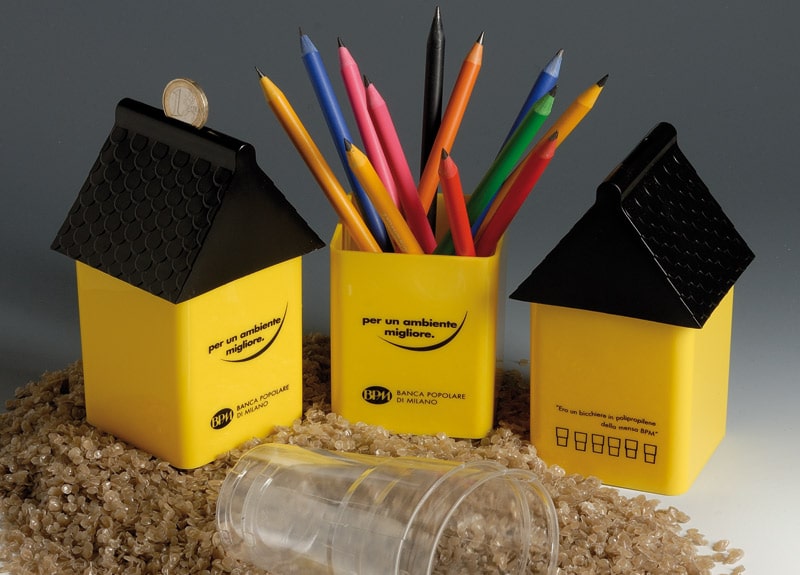 Recycled BPM PP house-shaped money box.
Can also be used as a pen holder.
100% post-consumer recycled plastic, 100% recyclable.

Folder with shoulder strap (prototype).


Desk accessory collection made by recycling car, motorcycle and truck reflectors and headlights. Washed, ground and reduced to granules, the material is used to create the Headlight desk accessories and pens. Available in red, orange and crystal, they can also be made in the color requested by the customer by using transparent methacrylate.
All the desk accessories have "I was a car reflector" written on them and are certified ReMade in Italy, the first brand for products and materials that are recycled and reused in Italy; a trademark created to promote Italian sustainable industries.
The ReMade in Italy brand includes information about the sustainability characteristics of the material and the product, in terms of savings in raw materials, energy savings and CO2 emission reductions.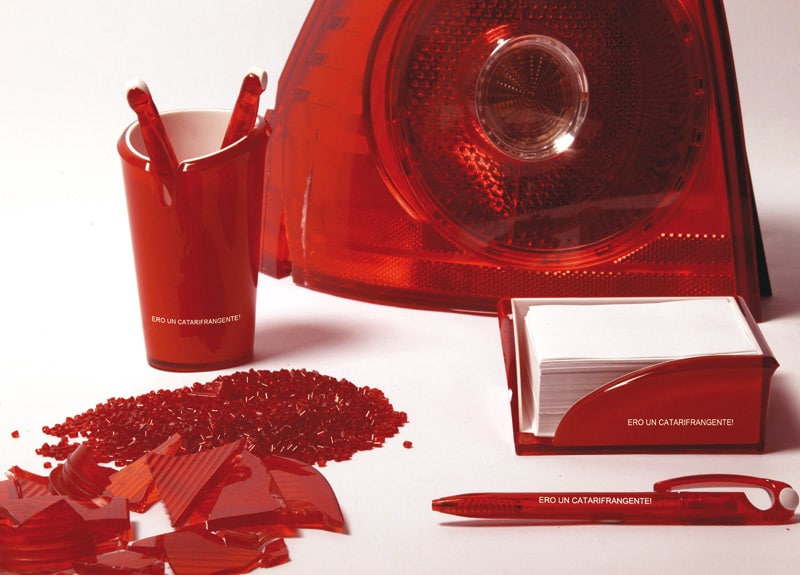 Headlight pen holder size 5.3×10.5 cm (2.09×4.13 in).
Headlight memo notepad holder size 12x9x2.5 cm (4.72×3.54×0.98 in) and 7x7x7 cm (2.76×2.76×2.76 in).
The note block is made of 100% recycled paper.
All the Headlight desk accessories have the message "I WAS A CAR REFLECTOR" printed on them.
RECYCLING AND REUSING PLASTIC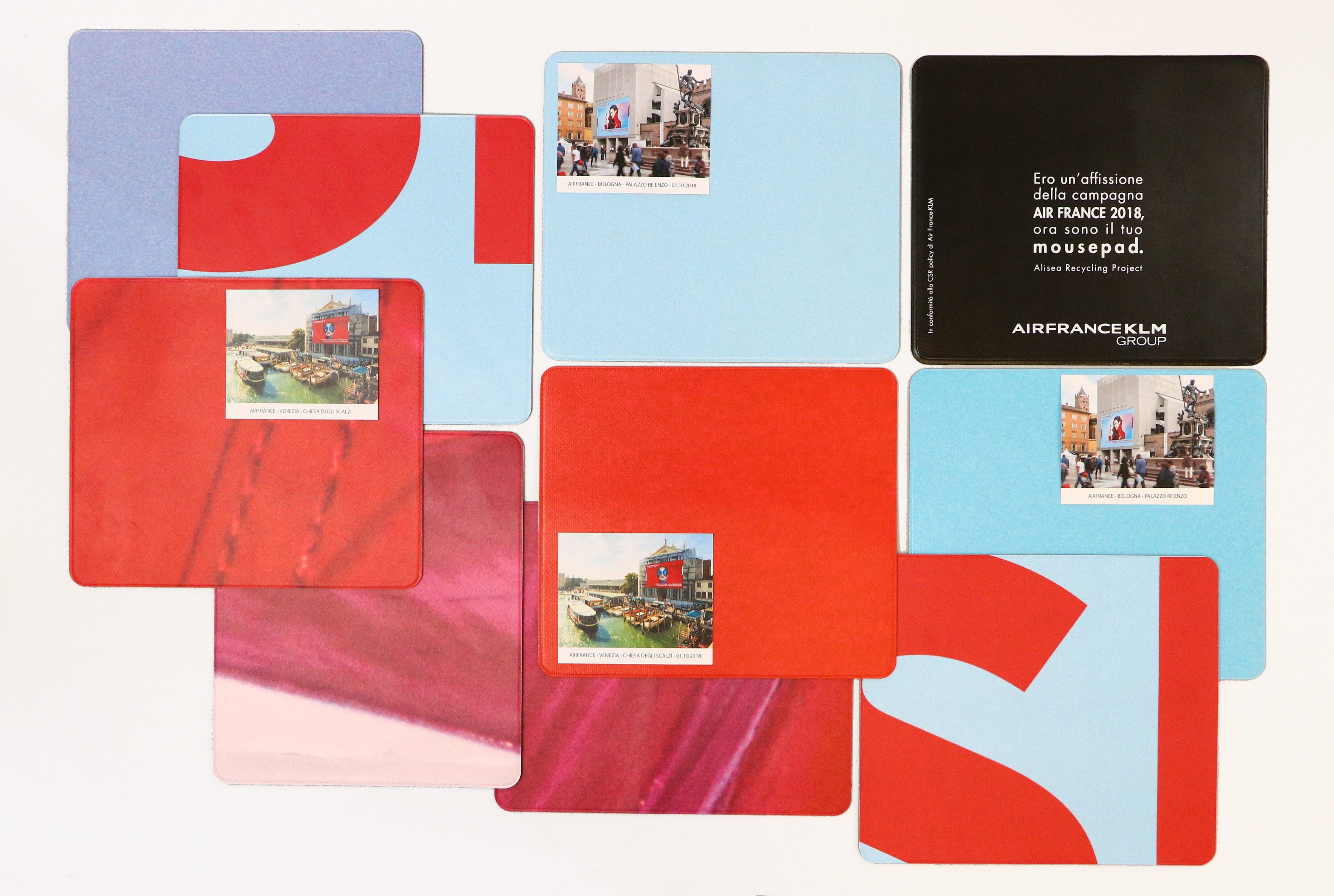 "I was an Air France 2018 campaign advertising banner … Now I am your mousepad"
Mousepads made from the recovery and reuse of 2018 Air France campaign PVC advertising banners.

RECYCLING AND REUSING THE SONY PVC ADVERTISING POSTER AT THE END OF THE ADVERTISING CAMPAIGN.
The limited edition SONY BEAUTY CASES are made from the PVC billboard poster (size 10.5×11.5 m – 34.45×37.73 ft) removed at the end of the "SONY INTERNET TV" publicity campaign.
After collecting, cleaning and sanitizing the poster, it was cut and sewn by hand to create beauty cases. They are unique pieces that will be a constant reminder in time and in the collective memory of their event and place of origin.
A customized label inside the case tells the story of the object along with the name and date of the campaign.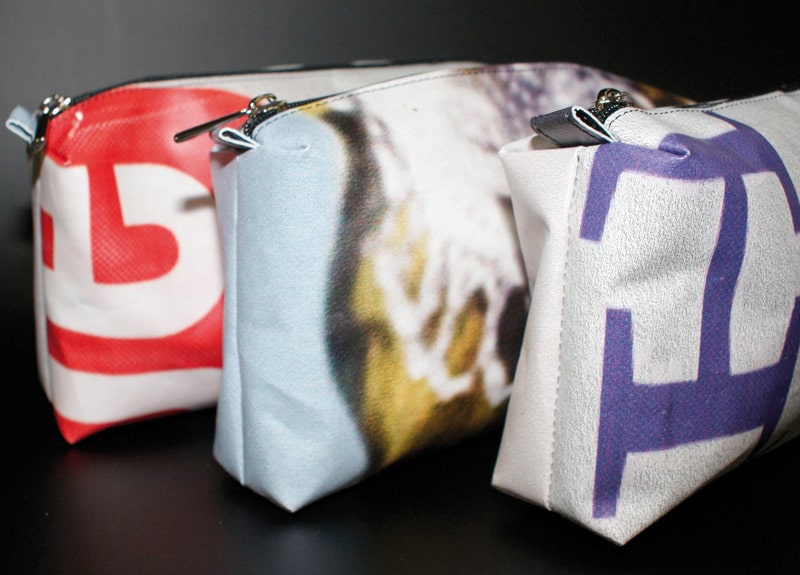 "I was the PVC poster for the Sony Internet TV advertising campaign. Now I am your beauty case".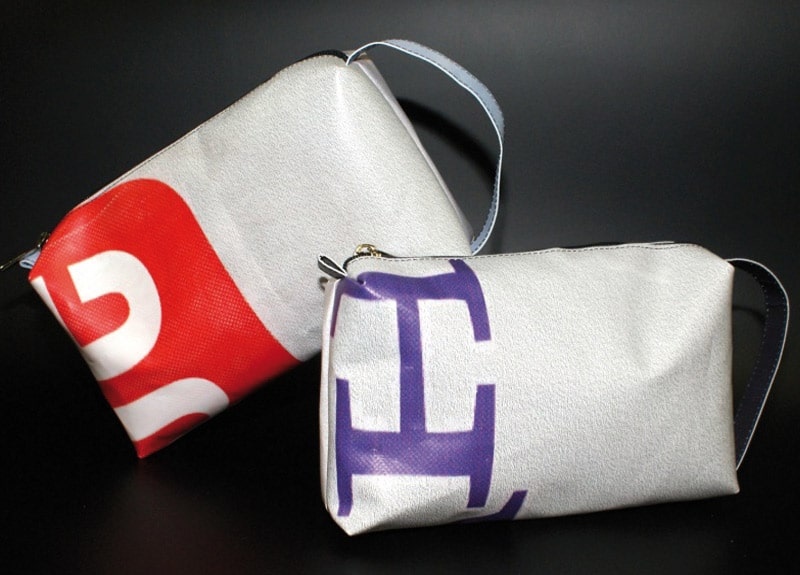 Genus Bononiae
Pencil cases made from the PVC banners and posters advertising the Museum of the History of Bologna.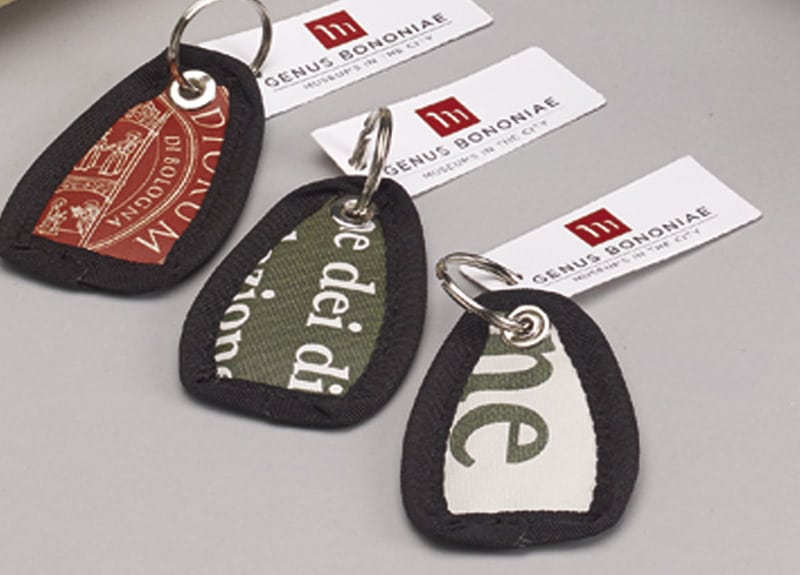 Genus Bononiae
Key ring
Metal ring.
Each piece is unique and includes the date and name of the campaign.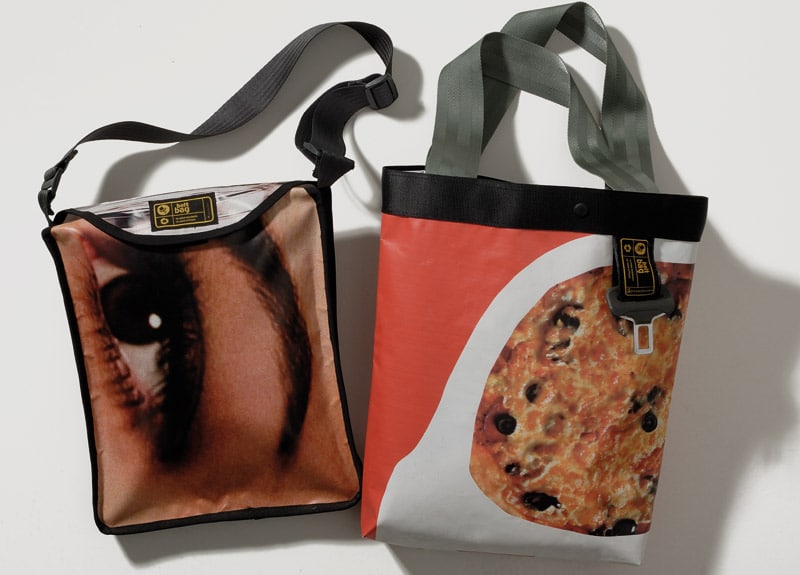 Computer Bag
We use seat belts from old cars to make the shoulder straps.
RECYCLED PLASTIC