Glass thrown away into the environment remains for millennia, instead it can be recycled up to seven times when correctly disposed of. By substituting virgin raw material with glass waste, it is possible to save up to 25% of the energy used in production processes.  It is from the recovery and recycling of glass bottles and packaging of the biomedical and hospital sectors that glass powder is produced from. A secondary virgin material at the base of the production of Alisea's Glass Communication Objects.
Glass is a natural product that can be recycled many times. It is an ideal material for Alisea's communication projects. All the blown glass objects in the collection are eclectic, ironic, colorful and bring joy to those who own them.
Glass blower, Massimo Lunardon, craftsman and designer, mixes, almost jokingly, research, inventiveness and practical skill, in the complex process of lampworking. He creates unique and unconventional items that are as different from each other as the people they are intended for. Our collaboration with Massimo goes beyond the collections: on request, ad hoc glassware items are made, unique and special.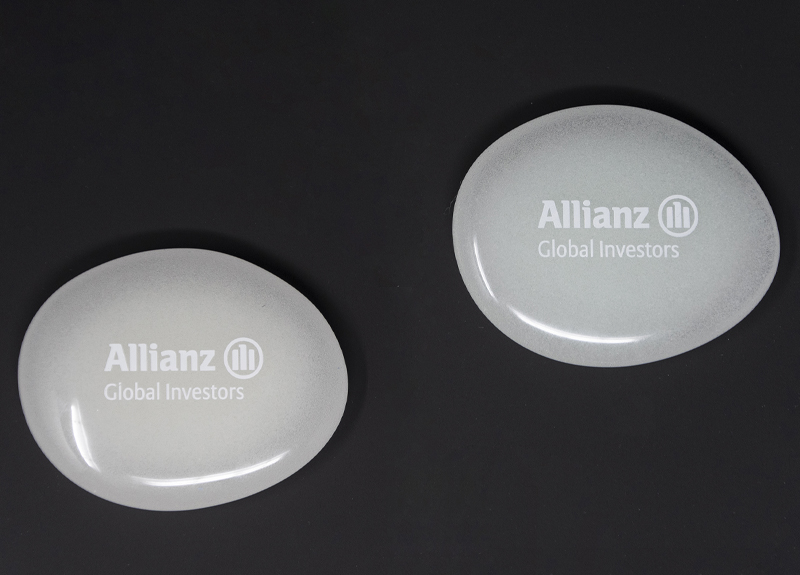 Drop of Light by day.
Photoluminescence returns in the dark the light absorbed throughout the day.
Size: about cm 8 x 6,5 x 1,5
Weight: 0,12 Kg

Packaging.
Drop of light is accompanied by its natural organic cotton bag with inside a customized certificate that tells its story and materials.

Drop of Light by night.
Exclusively for Allianz Global Service: the photoluminescence illuminates the drop which, in turn, makes the brand glow in the dark with gradually decreasing intensity up to 6 hours.

Drop of Light at night.
In the dark it gives off a fascinating and magical blue or green fluorescent light.


Glasses designed to bring some fun to the dinner table.
The handmade Goto glasses are made of borosilicate glass and can be washed in the dishwasher and used in the microwave.
Goto, water glass height 11 cm (4.33 in).
Gotino, wine glass height 8.5 cm (3.35 in).
Cicchetto, liquor glass height 5 cm (1.97 in).
Each Goto glass carries the signature of the master glass blower that created it.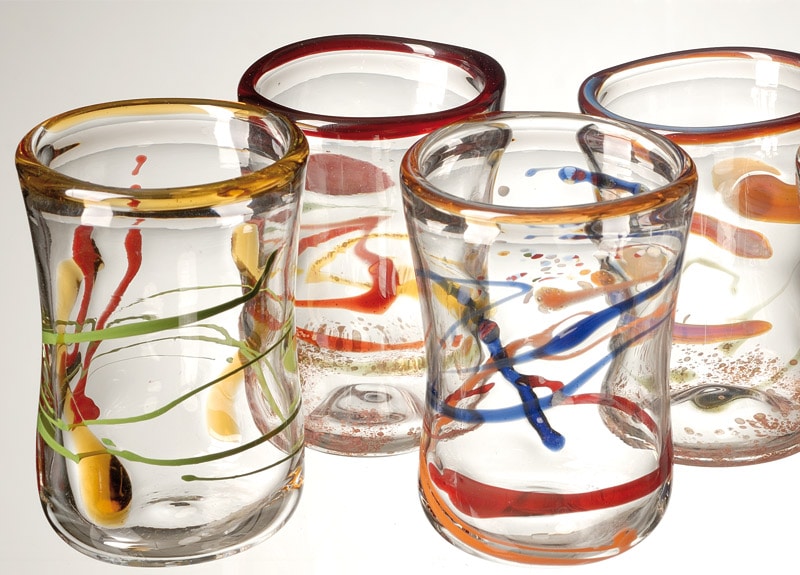 The colors of the Goto glasses are different every time.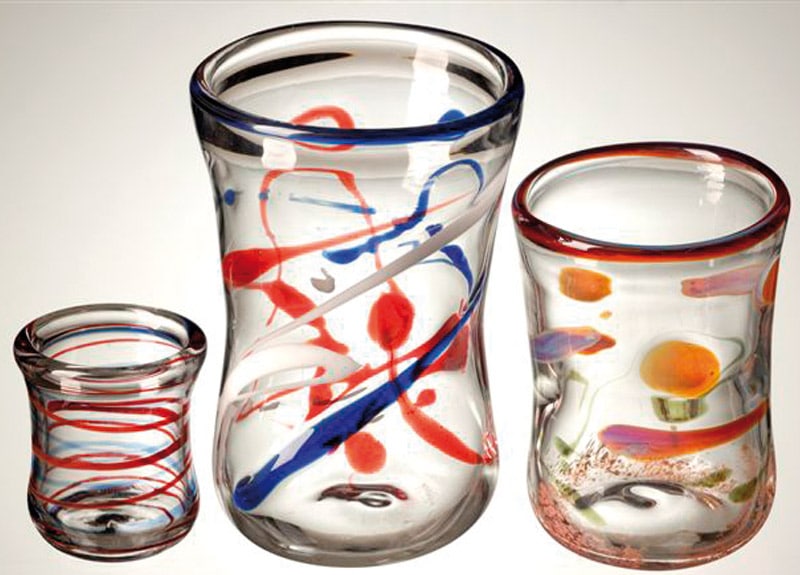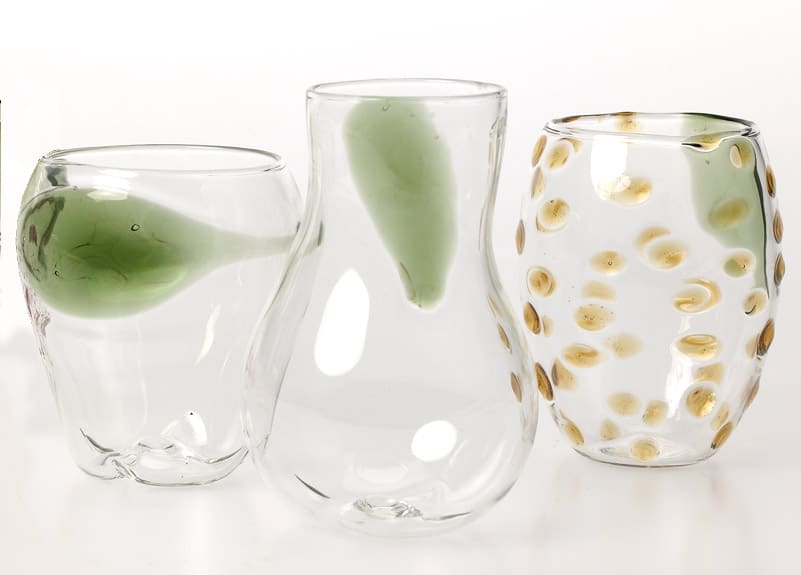 Santal
Artistic juices
These lampworked glasses were designed for the launch of a new product line and are reminiscent of the shapes of various fruits: Lemon, Pear, Orange, Strawberry and Apple.
Limited Edition.

Noemalife
Noemalife wanted Alisea to produce an exclusive set of lampworked glasses with the new company logo. All the glasses carry the signature of the glass blower that made them.
Limited Edition.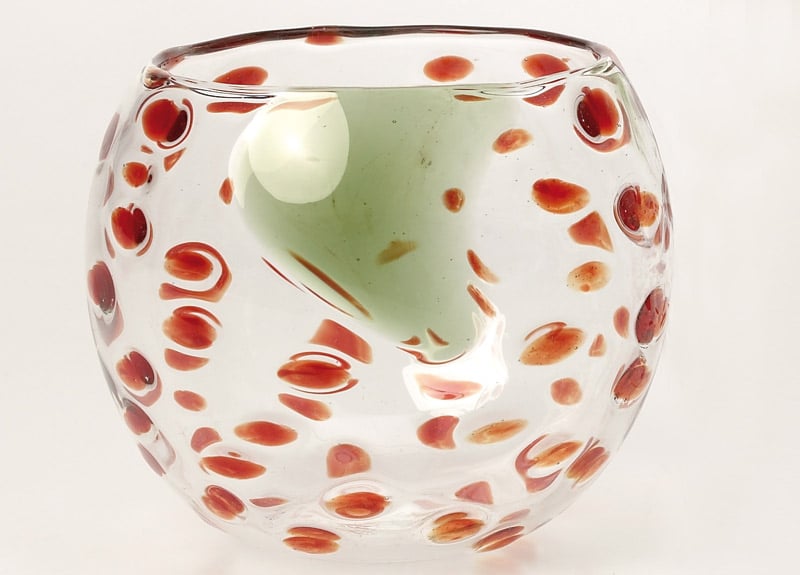 Santal
Artistic juices
The Orange glass is part of a collection that was designed for the launch of a new range of products and was made entirely by hand.


Jugs
Ø 12 cm (4.72 in), h. 19.5 cm (7.68 in)
Ø 13 cm (5.12 in), h. 22 cm (8.66 in)
Decanter
Ø 18 cm (7.09 in), h. 23 cm (9.06 in)
Liter jug
h. 26 cm (10.24 in)
Half-liter jug
h. 22 cm (8.66 in)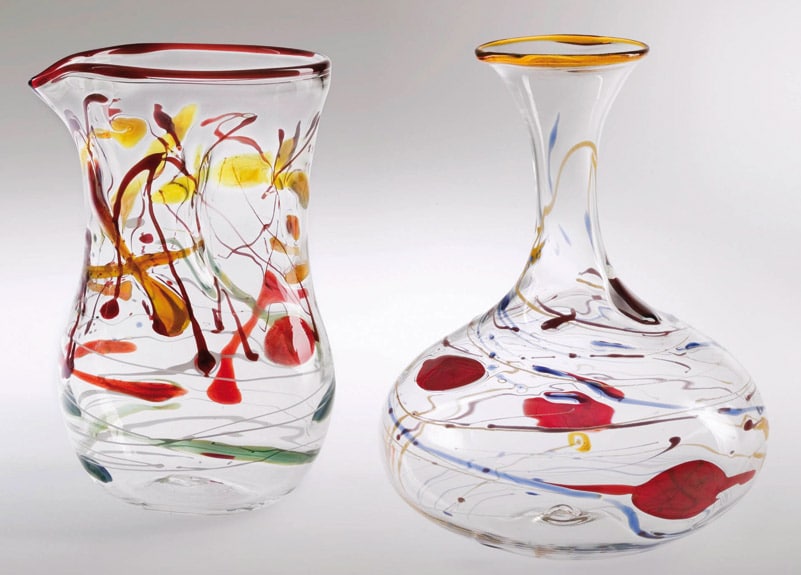 Decanter and Carafe
Made using the lampworking technique, these handmade objects are each unique in their coloring.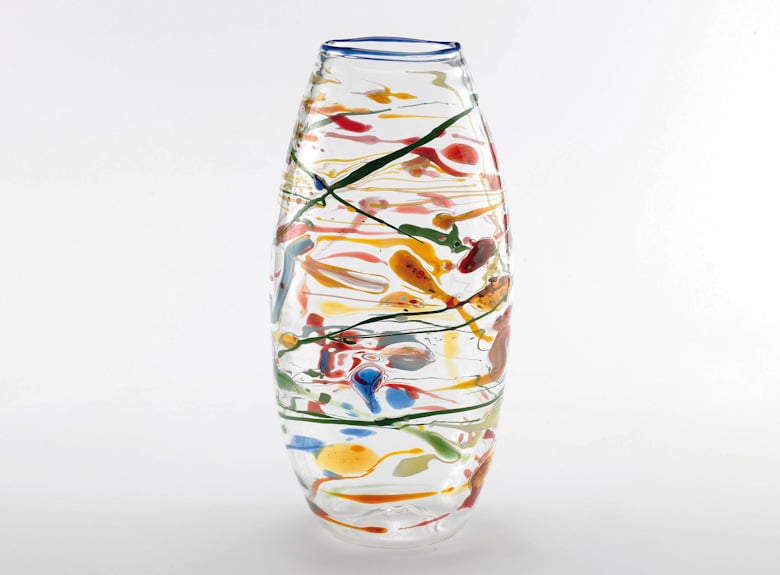 Vase for flowers
Ø 8 cm (3.15 in), h. 30 cm (11.81 in)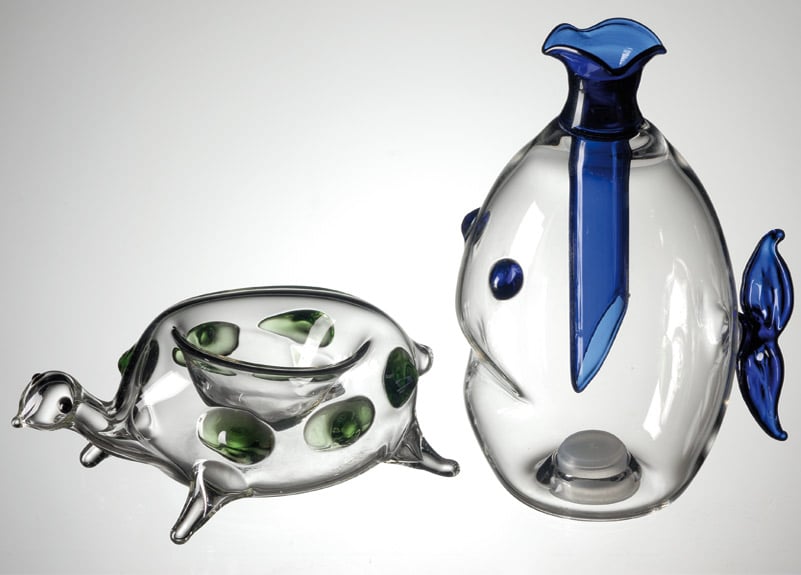 Turtle egg cup
12 cm (4.72 in), h. 4 cm (1.57 in).
Whale sugar pot.
Ø 4 cm (1.57 in), h. 13 cm (5.12 in).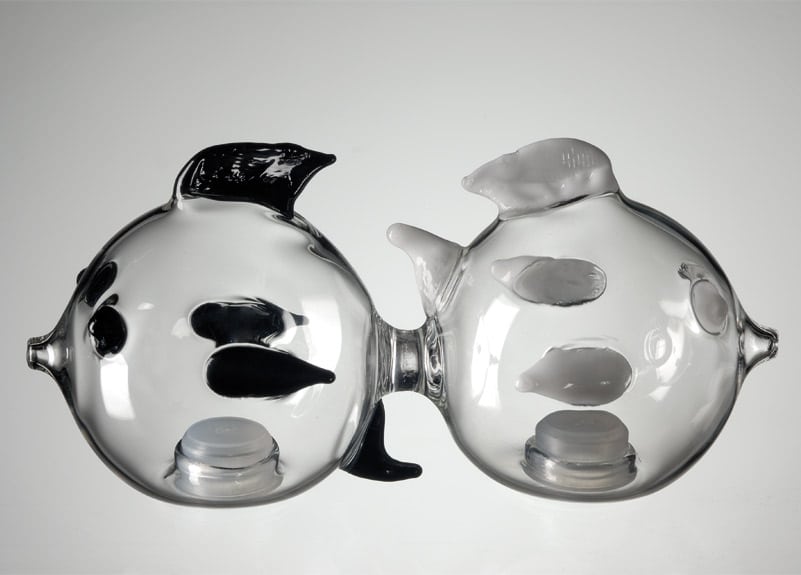 Salt and pepper pot fish
Salt & Pepper , cm 15, h. cm 7

Oil and vinegar dispenser piglets.
15 cm (5.91 in), h. 7 cm (2.76 in)


Rettangolo
Rectangle key ring with natural rubber strap,
925 silver snap-hook fastener.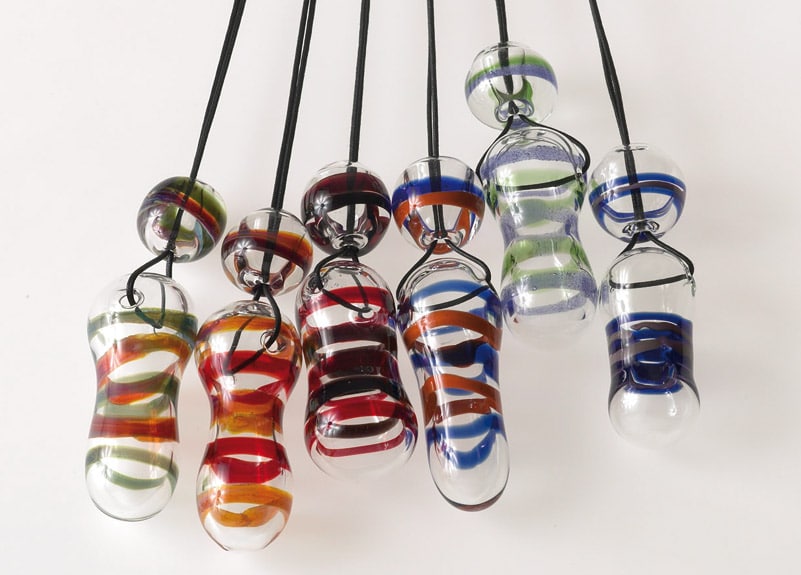 Pendants
Hand-crafted, in unique shapes and colors.
Cotton string.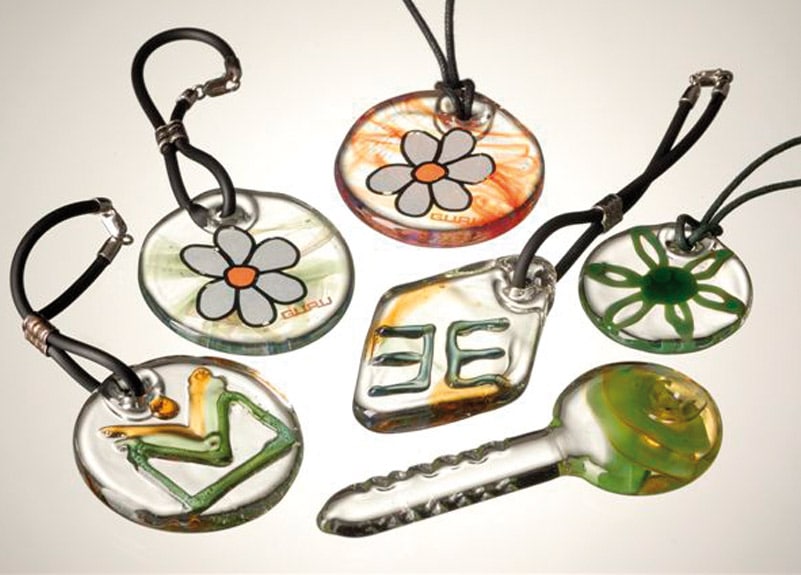 Round key ring
Ø 4 cm (1.57 in).
Natural rubber chord,
925 silver snap-hook fastener.
Key-shaped key ring in unique colours.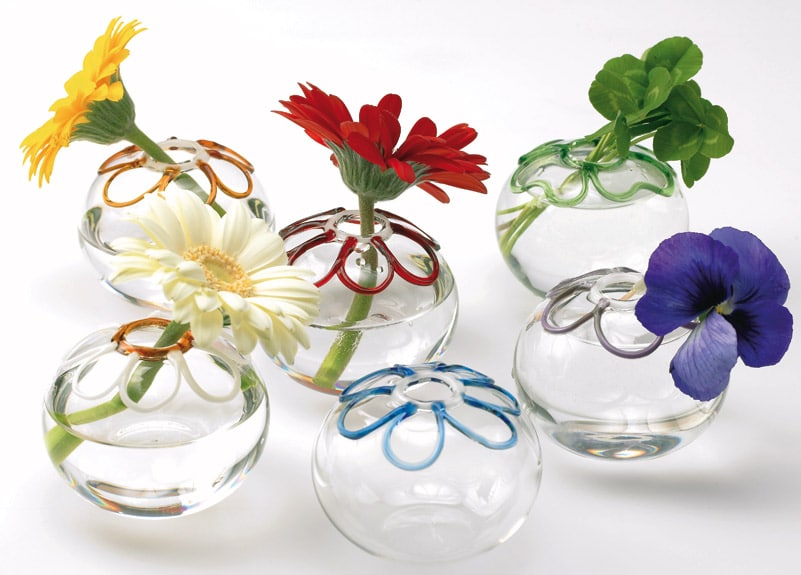 It is similar to a crystal ball and it is magical: it takes on the appearance of a cat, a fish or even a daisy, a four-leaf clover or a violet.
Fresh, natural, precious and original shapes. As different as the many uses of an artistic  and colourful blown-glass ball with a hole: pen holder, candle holder, a vase for flowers – a mini ampule with a thousand characteristics and a dash of imagination and irony. Each one is unique and unrepeatable: the magic of creativity.
Mini multipurpose ampules approx. cm 6.5×7 (2.56×2.76 in):
Daisy
Four-leaf clover
Violet

Ovo
Mini vases for flowers made from transparent egg-shaped glass.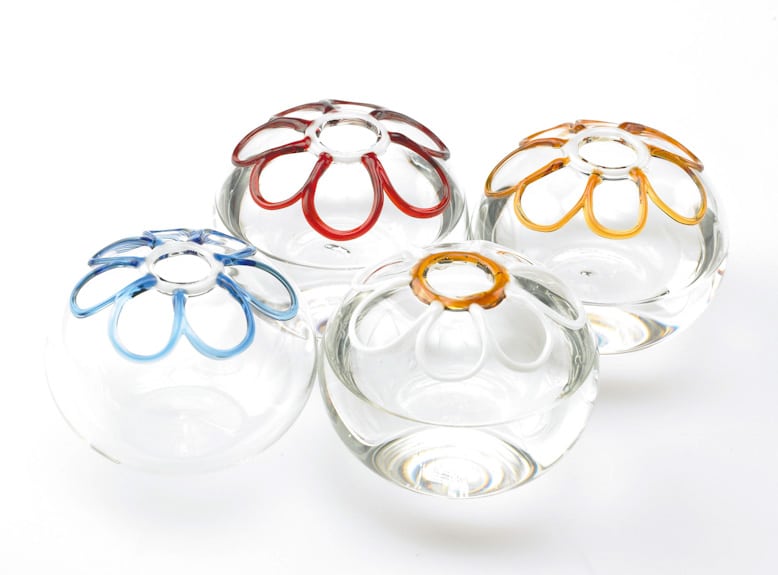 Bon Bon Margherita
Available in various colours.


Bon Bon
Sparrow, Octopus, Fish
Entirely handmade using the lampworking technique.

Small glass and Bon Bon cat.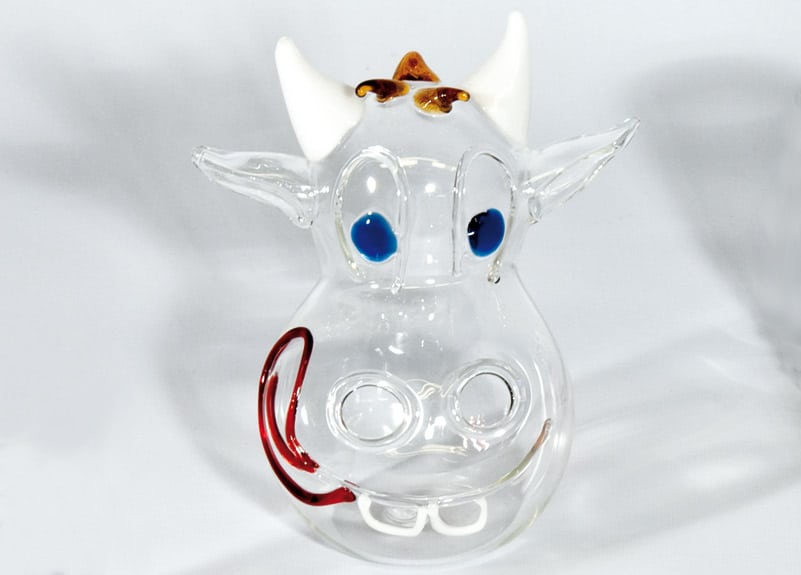 Morato Pane
Prototype made as a gift for the press conference that introduced a new range of products for children.


Lampworked balls that open. As fun as balloons, as light as soap bubbles, as translucent as crystal balls, as magical as alchemical stills.

Suspended by transparent wires, tied to colored ribbons or simply placed on a surface, they can be used to display delicate objects: "look, but do not touch". Closed using natural rubber o-rings.

They can be filled with a variety of objects or used as elegant gift boxes. Let your imagination run wild!
Sizes: Ø 8, 12, 20, 25 cm (3.15, 4.72, 7.87, 9.84 in).


Gotto del maestro
Mouth-blown glass
For Alisea's Gotto del Maestro collection, the Master glass blower, Fabiano Amadi, rolls the hot glass on a thin sheet of silver before adding the multi-colored glass leftovers from the Murano glass-blowing workshops. The shape and color are different every time. Each piece is unique and carries the signature of the Master glass blower.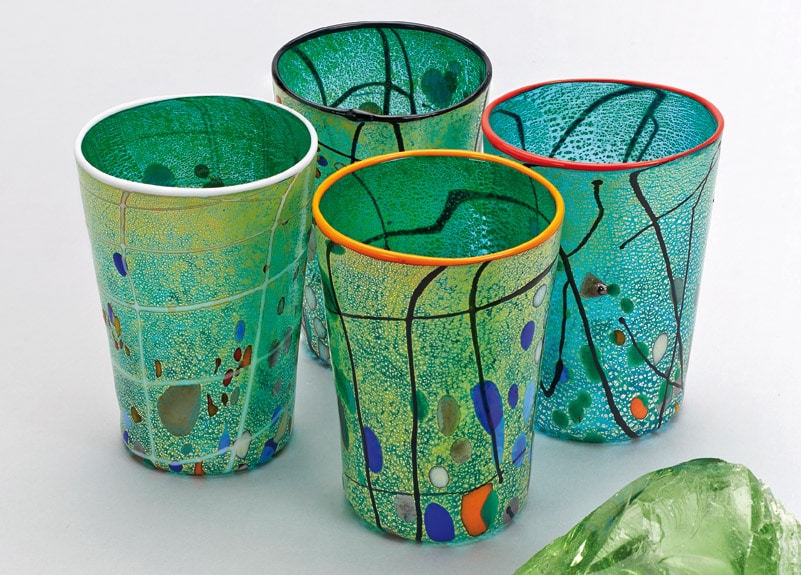 Gotto del Maestro
Mouth-blown glass, hand finished.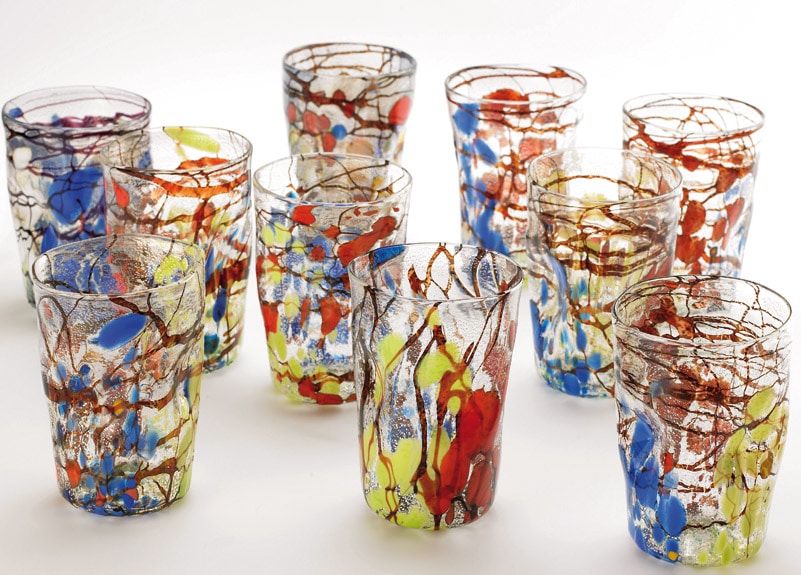 The Gotto del Maestro glasses are made from clear glass with multicolored drops.

Gotto del Maestro water glass
Ø 8.5 cm (3.35 in), h. 12 cm (4.72 in).

Gotto del Maestro wine glass
Ø 8 cm (3.15 in), h. 9.5 cm (3.74 in).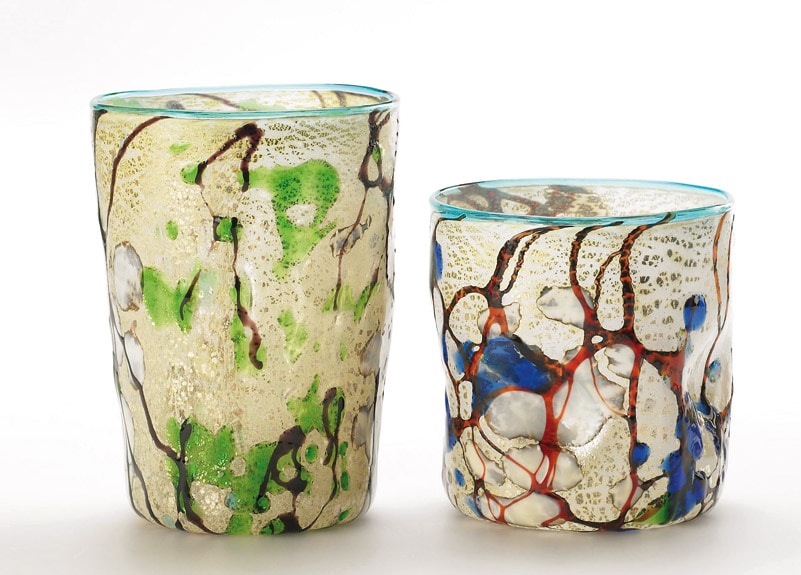 The edges of the Gotto del Maestro glasses can be colored.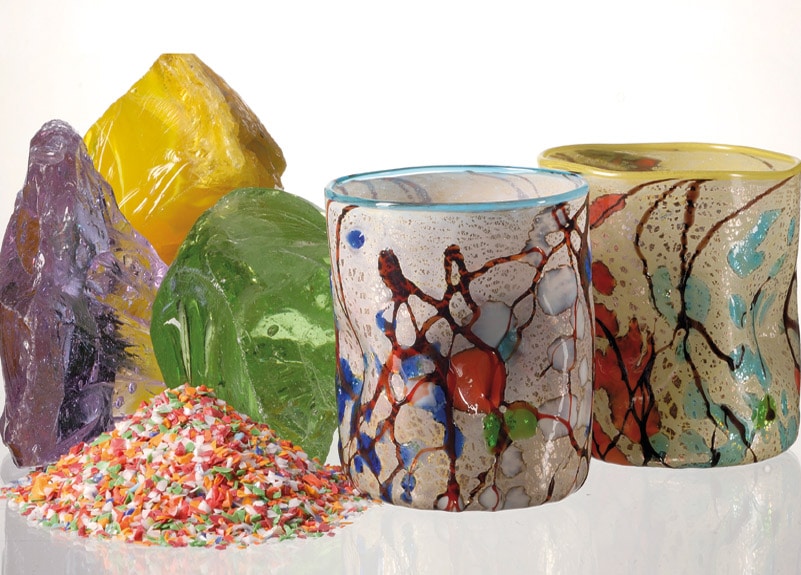 To create the designs in this collection, the leftover scraps of colored glass from the Murano glass-blowing workshops were used.


Jugs
Mouth-blown and hand-finished glass
Ø 12 cm (4.72 in), h. 22 cm (8.66 in)
Ø 10 cm (3.94 in), h. 20.5 cm (8.07 in).

Pitchers
Mouth-blown and hand-finished glass.

Bowl
Mouth-blown and hand-finished glass.
Edged in colored glass.
Ø 16 cm (2.48 in), h. 8 cm (3.15 in).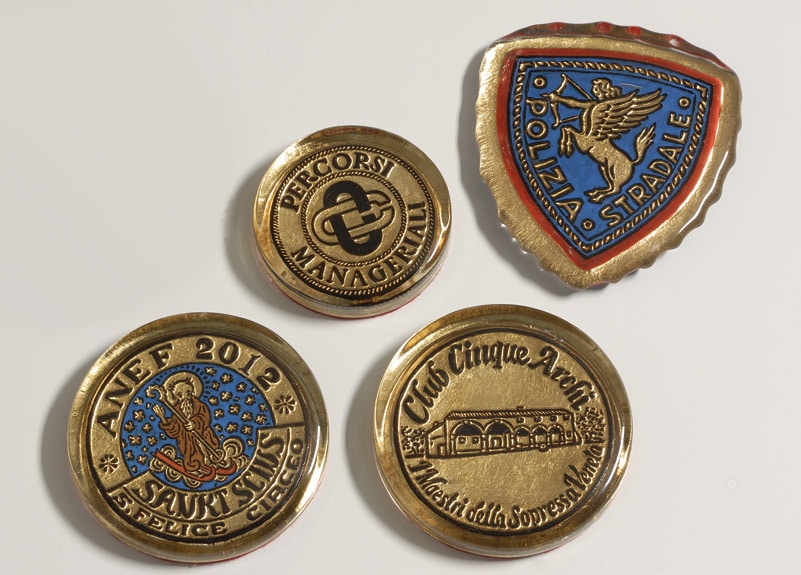 THE DOGES' GIFT
Commemorative coins, a prestigious gift in the ancient tradition of the Venetian Doges.
With relief prints they can have logos, lettering, dates or greetings on them. They are decorated by hand by artisans using gold leaf and colored enamels (liquid Murano crystal).
Different shapes and sizes are available and can be creeated to designs provided by the customer.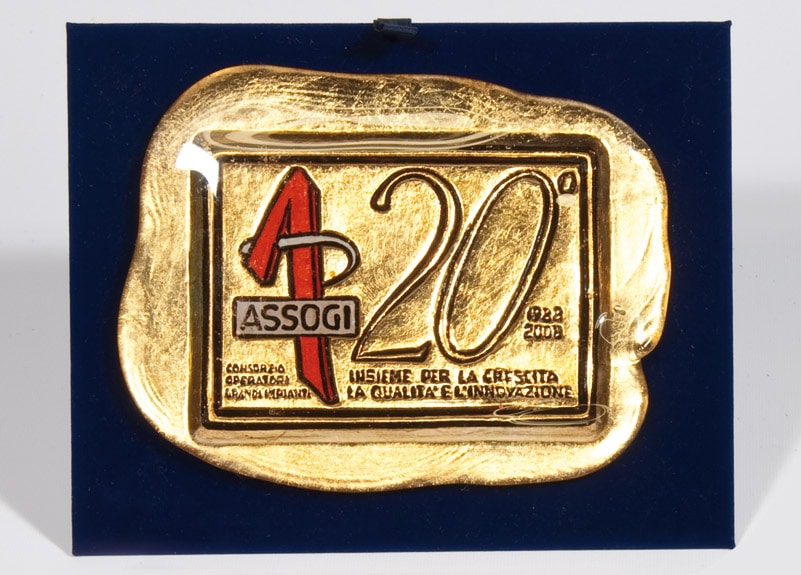 Plate gift
Logo and lettering in bas-relief.
Hand-decorated with enamel and gold leaf by the craftsman using liquid Murano crystal.
Size 15×12 cm (5.91×4.72 in).

Fish
Bas-relief in Murano glass, hand-decorated with gold leaf and enamel.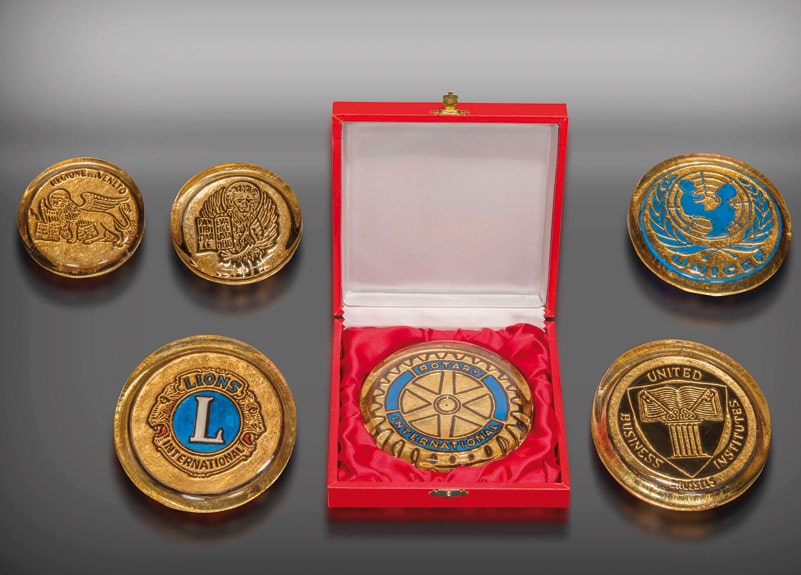 Examples of various sizes of Osellas with colored glazes.

Osella, bas-relief on gold leaf.

Crucifix of Santa Croce
Reproduction using Murano glass of Cimabue's wooden panel.
Original held in the Basilica di Santa Croce in Florence.
LEAPWORKED GLASS